We talk of so many aspects of digital marketing. There are websites, there are blogs, people have their social media campaigns, and there are email marketing campaigns.
But if we think of the rudimentary digital marketing of a decade or two back, we will see that emails were an important weapon in the marketing arsenal in those days, and it still continues to be very important.
That is why marketers place such a lot of stress on designing and implementing email campaigns well, so that their overall digital marketing campaigns can have better returns on investment. One of the best ways to make email campaigns more effective is to direct specific campaigns at specific targets.
The Need for Segmentation
This means that the campaign for a college going 20 to 25 year old audience would be quite different from the content used in a campaign targeted at a 35 year old person who is about to buy his or her first house. But for this the marketer needs to have the target audience cleanly divided into specific segments. Let us take a look at six important ways data can be used to create such segments.
Source of Data
The first thing to remember is that the data used for email segmentation could be different in different scenarios, and at different points of a company's life cycle. The source of data for email segmentation would be different for a youth fashion brand and a NGO serving elderly people. So the marketer needs to decide on where the data would be taken from, before the process of segmentation is initiated.
How to Segment
Apart from cold, hard, data, prospect/customer behavior also could be an indicator of how segmentation should be done.
One obvious place for this is the earlier email campaigns. The people in your email recipient list would have reacted in a certain way to earlier campaigns. Some wouldn't have opened it, while some would have set their filter so that the email went straight to the recycle bin. Some others would have simply read the email and then closed it without doing anything about it. And one set of people would have actually responded and reacted to the mail.
Depending on these and other responses, you need to segment your emails the next time round.
Utilizing Segmentation Parameters and the Right Filters
There are segmentation variables that can help one come up with a more strategic subscriber acquisition campaign. It is all about feeding the marketing automation tools with your most prospective customer base segments.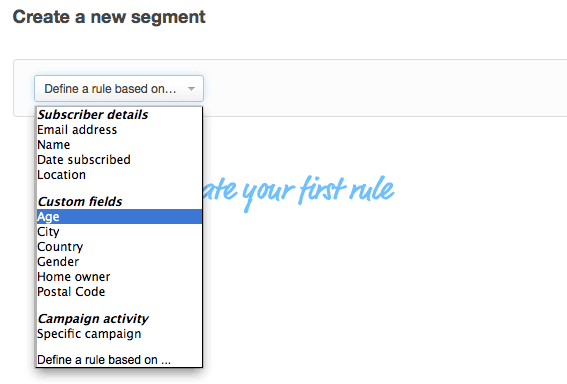 Source: Campaign Monitor
You can include various filters such as age, country, designation, the budget spends, online buying behavior, geography and technology investments. With this, you can employ bespoke and tailored content for different sub-segments in your target audience, creating more engagement at a personal level.
The effective utilization of the rules engine and the use of and, or, not and contains filters in your marketing automation tools, you can get the job done with practical ease.
Monitoring and Tracking of Campaign Effectiveness
One crucial element, which is often overlooked, is how to track campaign effectiveness. You need to put in place the right tools to measure and monitor your marketing and advertising campaigns effectively.
Campaign Effectiveness Measurement helps you proactively predict the outcome of your campaigns. To make sure you're going in the right direction or driving the right results — tracking effectiveness is critical.
There are many different methods of measuring email campaign effectiveness. Your key focusing should be on understanding which messages performed well in your campaigns and the ones that are failing.
Understanding Engagement Behaviours
Driving engagement is all about understanding the sensitivities of your prospects and not inundating them with a deluge of emails. It would help if you were contextually relevant.
There are many tools that you can employ to know how your prospects engaged with your content. This engagement includes what segments of your audience open the emails, took actions on the links provided, interacted with specific creatives, and clicked and how deeply they engaged with specific links within the email.
It is good to deliver content with a mobile-first approach as most people often view content on their phones and make quick judgments about what you have to offer based on how accessible it is and how appealing it looks.
What Parameters Mean More in B2B
Since we are talking about B2B email marketing here, you need to keep in mind that the age, sex or other demographic indicators might not make that much of a difference.
On the other hand, tenure in the company, role, and designation are some of the data points that could have a bearing on how your email would be responded to. Therefore you must ensure that this kind of B2B database is current and always updated before you use it for your segmentation drive.
These were just six ways in which data can be used for segmentation. In the subsequent articles we will be talking about further aspects of data segmentation while carrying out B2B email marketing campaigns.
Author - Debottam Dutta

Debottam Dutta, is the VP for Business Development at Span Global Services. A technology geek with deep industry knowledge, Debottam has championed the B2B data space and enabled double digit growth for global tech enterprises. His business models have inspired partners globally to embrace data-driven partnerships. Over the last eight years he has built a reputation for developing the best business strategies, incubating new business models and expanding partner channels world-wide.