Technology Intelligence Trends 101: S01 E03
In Span Global Services' lead-up for #RoadtoDF16, we will be talking about the latest happenings in the technology fora and our respective takes on each topic. In our last episode, we spoke about the coming year's content marketing trends. This time, we are going futuristic. It's a robot army trying to overcome our digital communication space.
Watch this space for more…
S01E03: What Digital Marketing Gurus have to Say about the Latest Chat-bot Frenzy
The millennial audience loves technology. And unifying the two technology stars – AI, and Chat – into the digital communication mix makes sense for businesses. But the recent over-the-top obsession with intuitive chat systems (Chat-bots) is a little premature, according to digital marketing experts.
Trying the 'new thing' is a cool thing to do, as long as you know what you are doing. The "golden goose-chase" in pursuit of the ideal chat system have left tech marketers to lose out on their current communication options.
Guru-Talk #1: Let Chat Breathe. Chat-Bots will have their Time
"The messaging era is definitely now. It's the one thing people do more than anything on their phone. … In terms of time spent, attention, retention – this is where it's happening."
–          David Marcus
Messaging Division Head, Facebook
Chat is making a strong presence in the market, though businesses have taken long to realize its potential.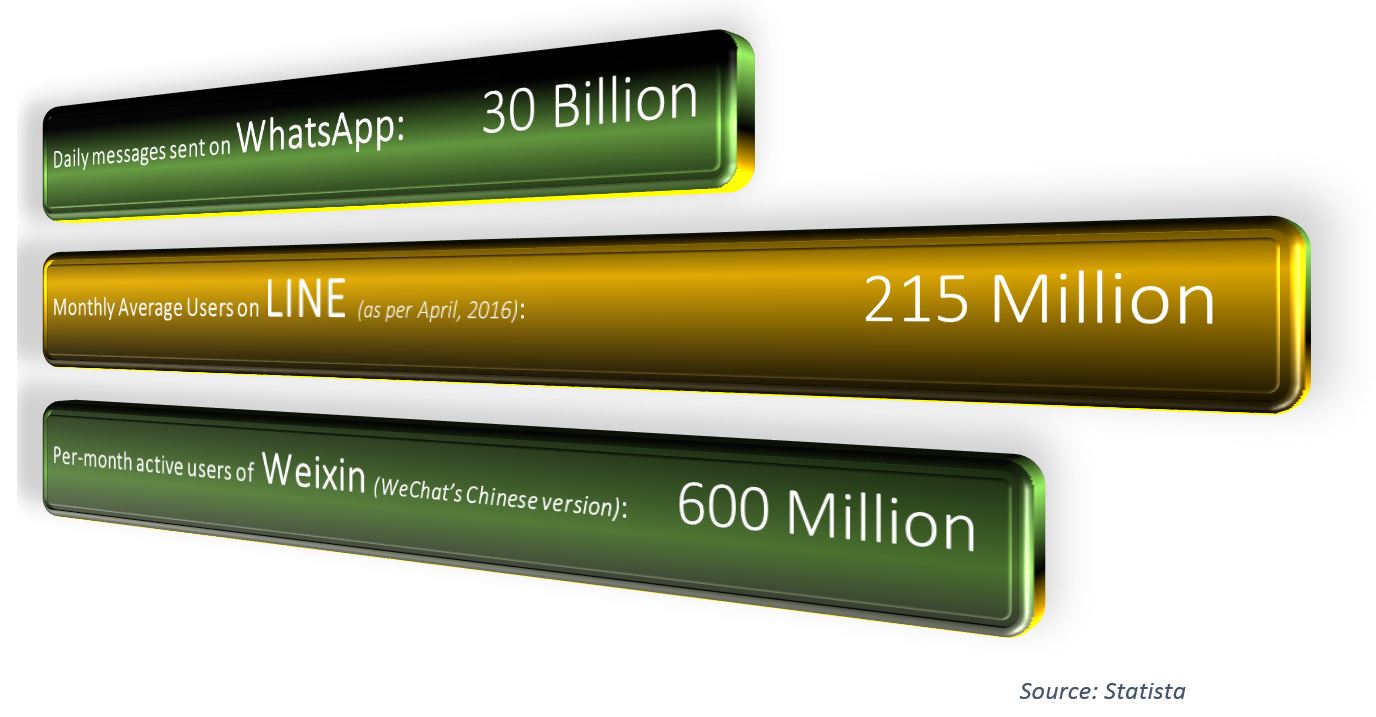 WhatsApp, Facebook Messenger, Kik, WeChat are few of the most promising messaging apps in the world. In fact, social media apps have lost out on the top used apps race, and all the leading positions have been filled by messaging apps in the past few years. Combined, messaging apps now hold all of the world's top-five ranks for being the mostly used apps globally. This is definitely chat's moment!
Takeaway:
Third-party messaging integration
In-app services
Web chat
Guru-Talk #2: Businesses Need to Grow up for Chat-bots
Facebook recently proposed third-party messaging integration (a common feature amongst messaging apps) through its massive chat-bot platform. Though effort-saving, but adding another layer in the communication strata makes the company more distant from the prospect. Doing so, the company also misses the basic objective behind messaging services: fast and easy communication with customers.
The hype for AI (and for chat-bots) is not completely unwarranted. The potential is promising, but future sadly is not today. Undoubtedly, there have been successes with the platform (like KLM giving service options through Facebook Messenger), but the intuitiveness of artificial intelligence is still comparable to that of an adolescent amateur. Two cases:
Apple Siri: Siri's intelligently knit script of voice responses fulfills most simple daily queries, and handles difficult queries with "witty" replies. Then, at the end of the day, Siri is just another "cute and vocal" search bar.
Microsoft's Tay: Chat-bots, when infused with deep learning, can be hit with the humanizing button pretty hard. Last time Microsoft tried the same thing, its chat-bot turned into a homophobic lewd racist in 24 hours of its launch this year. The company has shut down the AI-operated account (@TayandYou) since then.
Chat-bots are still in its infancy, but it is the producers actually who are acting the part. In the race of capturing the market, tech marketers are pushing an unfinished product, just to strike chords with the youth, who are major users of the smartphone bracket. Companies need to grow up (with their product) and understand their product before consumers do.
The final objective is to create a healthy client communication exercise.
Was the blog useful? Don't forget to share! Have any specific digital marketing issues that we can help you with? Contact Span Global Services' 24/7 digital consultation experts. Or, meet us at Dreamforce!
Know before Others!
Author - Edward George
One of the most charismatic leaders at Span Global Services, Edward assists strategic planning initiatives that help to promote an overall brand image of excellence. George is also a renowned B2B brand evangelist and blog writer. Backed with 15 years of client management expertise, George currently helps businesses achieve success through data-driven digital techniques. He ardently follows the lead by example principle and helps to maximize business performance of the organization and its clients.