The main focal point in personalization is being able to provide an ultimate customer experience. Not only the solutions, but also a homely presentation – customers want to feel comfortable with the content. Marketers must keep their buyer personas close, and campaign guidebooks closer to get things right. There is nothing trickier than influencing influence.
Contradicting notions are robbing marketers of vital opportunities. They want to personalize, but don't believe in the tools they have to do so. They're unsure how to segment their database, integrate personalization into their conventionally tested strategies, and ultimately use it to drive more successful email marketing campaigns.
Personalization: the Email Marketing Chapter
Personalization is easy when you have a clear understanding of your target audience and the message you want to deliver. In a Radicati Group conducted survey, it was proven that on an average, only 3 to 5 business promotion mails are opened per user per day.
In another survey conducted early this year to delve the most significant challenge for the year 2016, marketers concluded two key challenging areas:
33.97% marketers considered data and analytics to be the most significant challenge, followed by 33.55% for content marketing.
Marketers so far are not yet able to reap maximum benefits from personalization. Although they've witnessed the spark that personalization adds in marketing strategies resulting higher returns.
Personalized Email Marketing sans Pricey Assets
Knowing "to whom" you are selling, "what" you are selling and "why" are you selling, you might be able to figure out the necessary information for personalizing your email marketing campaigns.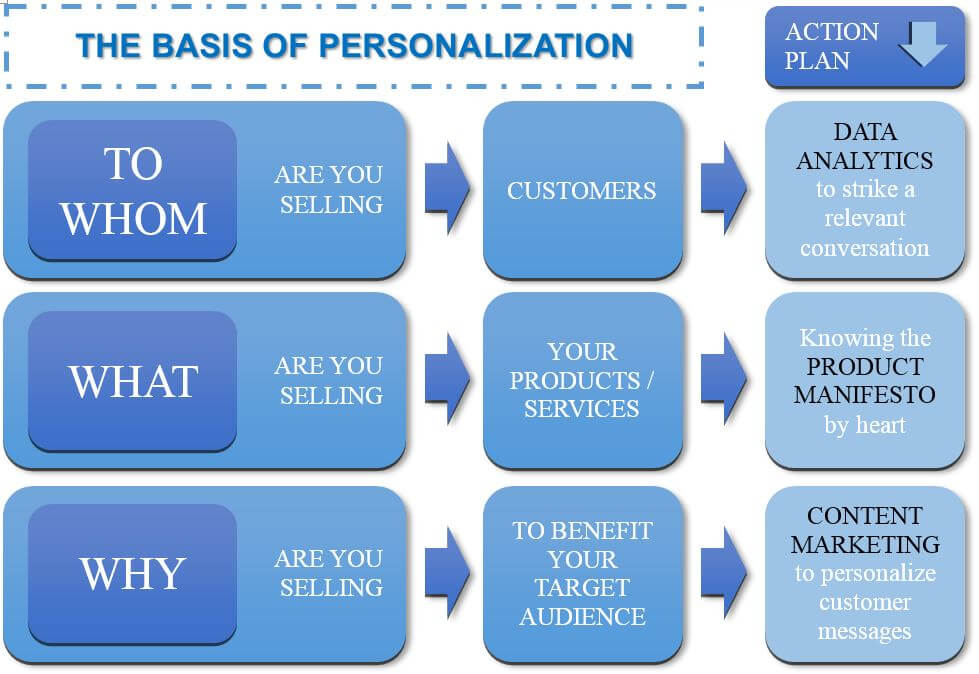 As a marketer, you must excel in extracting required information from the plethora of data available as every small interaction that prospects have online. You must understand customer touch-points, build action plans (like the one above) from them and engage with meaningful content with customers.
Breaking the Ice:
There's no doubt that Data and Content mould the bedrock of personalization. But there should be an effective method to leverage this Data-Content couple for optimizing your email marketing returns. While Analytics helps you delve into personas, automation can organize all your campaigning efforts under one roof. But not everyone can afford automation and analytics. Yet, personalization is possible. How?
By bringing individual-based lists and content into importance, you can seamlessly meet your marketing goals with a higher ROI.

If you're already an existing organization with a steady workflow, adding personas for each customer/client can prove to be cumbersome. In such cases, outsource the work to an agency or delegate the entire load on the inbound Data management team. To save time, you may find the first option to be more feasible.
–         Once you deal with data, start creating tailored content.
–         If you've got an existing website, personalize it. Ensure to personalize all BTL (Below the line) Advertising activities you are involved in with tailored content.
Content becomes a better fit when you bake it with behavioural and contextual data as key ingredients.
Word of Wisdom:
Personalization cannot earn you results overnight. But in a short span, results begin to show and you know your email marketing strategies are on the right track. And if it doesn't, you know something has gone terribly wrong. There are no half-measures in personalization. That is the risk (and probably the only risk) in these kinds of campaigns.
If you're a start-up, you may feel the need to pay more heed to data and content rather shelling your bucks on expensive technologies (automation) right from the beginning.
A key piece of being able to deliver personalized experiences is being able to recognize that person — especially when they are reaching your brand from different devices.
Personalization combines the creative aspect of human intelligence with the analytical power of data science to simplify the process of extracting insights from billions of data points. Marketers can use these insights to make better business decisions, focus on creating standout content, and benefit from recommendations and predictions they didn't even know existed.
Here is a checklist to ensure seamless personalization for all your campaigns: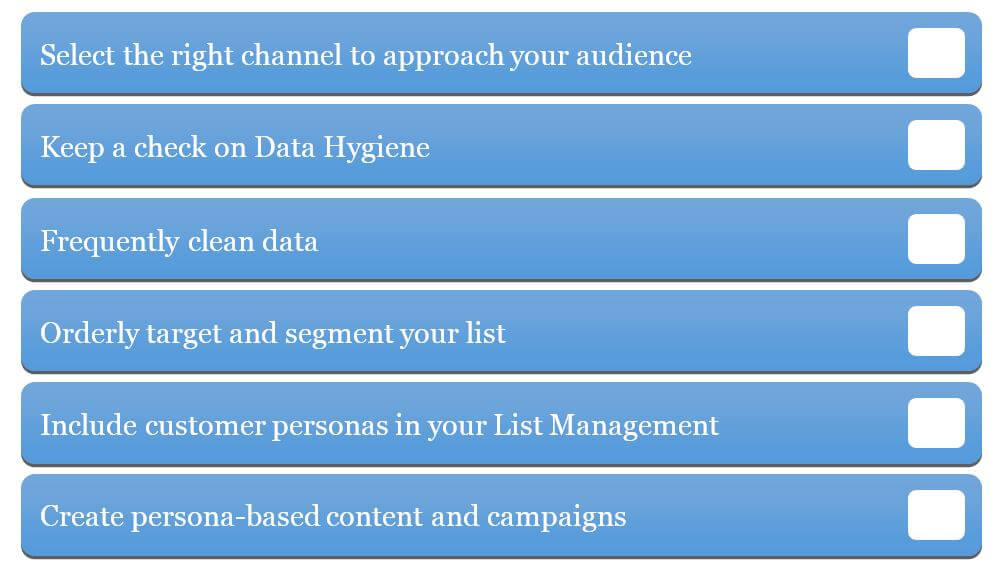 KYC (Know Your Customer) in this DIY (Do It Yourself) epoch is a simple approach to achieve personalization. With a plethora of techniques and tools available today, marketers easily get baffled. Instead, if marketers concentrate more on understanding the data they procure (intentionally or otherwise), you'll be able to understand your customer better and create relevant content for your audience.
Found our insight helpful? Receive first-hand email marketing consultations directly from our field experts. Contact Span Global Services.
Author - Jeff Anderson
Assistant General Manager has a 12 year track record in marketing analysis, business strategy and online brand development. His expertise has enabled various organizations protect their online brand footprints. An avid traveler, he is determined to learn new languages and uncover the secrets of how successful people and companies communicate.