Email is not only a powerful marketing and sales tool, but also a wonderful method to keep in touch with clients. Reconnecting with previous clients via email can help you create business, maintain strong client relationships, and keep your client base updated about your products or services. Knowing when and how to utilize email to reconnect with past clients will help you get the most out of this strategy.
Every year, most brands that conduct an email campaign or newsletter lose about 22.5% of their subscriber list. That isn't to say that a subscriber is a dead end. The subscriber may have simply concluded that a break from the consumer-brand relationship was in order.
You should try to re-engage your old email list before dismissing it as a lost cause. Re-engaging these subscribers is far more cost-effective than giving up and attempting to recruit new ones. Re-engaging an outdated email list can also aid in the general health of a marketer's list. Re-engagement emails, when done effectively, can reduce list turnover while also increasing incremental engagement.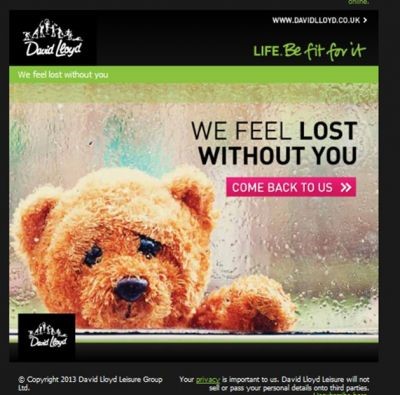 Source: David Lloyd
5 ways in which you can optimize your ROI with old ties
1. Offer them valuable resources
Providing past clients with helpful ideas, information, or tools can be a terrific approach to entice them back by demonstrating your kindness and compassion. Include any links, reading material, personal recommendations, or other resources that may be beneficial to their operations. This strategy also allows you to shift into business-related topics and may even allow you to propose an offer.
2. Touch the personal chords
Personal events might be an effective way to reconnect with previous clients and have a chat with them. For example, if you learn that an old client is getting married or obtaining a promotion, you can send them an email congratulating them on their accomplishments. This not only demonstrates that you actually care about their well-being, but it also provides an excellent opportunity to move into a business conversation.
3. Tell them what's new about you
Demonstrating new abilities or accomplishments in your email is another wonderful approach to attract old clients to engage with your products or services. Include in the body of your email any successful initiatives, partnerships, promotions, or advanced training you've recently obtained. This strategy may persuade old clients to evaluate your quality items and services by impressing them with your abilities.
Let's pretend you get a major project. The client is happy with the result. They now have a fantastic website that converts well. A few months go by. You put in more effort. You gain knowledge. You develop. You expand your menu with some new items. Perfect! You must now send a follow-up email to previous clients informing them of a new service. Without being obnoxious or flooding their inbox, you might offer to help them.
4. Don't hesitate to ask them questions
Open-ended questions are a good method to increase client responsiveness. Consider whether to open or close your email to encourage old clients to reconnect by responding. Consider include the following open-ended questions:
How's it going?
Is there anything I can do to assist you?
What are your objectives for the coming year?
What are you looking forward to?
What is the status of your present solution?
The answers to these questions may provide valuable insight into how your offers can best meet their needs, as well as assist you in making educated decisions about how to proceed with your correspondence.
5. Be a problem solver
Offering a solution to an old client's problem is one of the most successful ways to reconnect with them. Consider how your unique abilities and services can help you provide a valued service to your clientele. Consider the following approaches when composing the text of your email to make your offerings into problem-solving options:
Highlight the advantages of your product or service.
Concentrate on resolving issues.
Demonstrate what you want to happen.
Discuss the importance of resolving the issue.
6. Make a suggestion for a meeting time
When emailing old clients, it's a good idea to recommend a specific date, time, or location for a meeting to discuss business matters. This relieves them of one phase of the procedure, and the convenience of a scheduled meeting may encourage them to participate. They may be more willing to suggest an alternative if the suggested date and time do not work for them.
Conclusion
It can be difficult to let go of inactive subscribers when it comes to re-engaging them. Keep in mind that just because you have a large email list doesn't mean it's active.
If you don't want to be fined or labelled as spam, make sure your email list is healthy by sending a re-engagement email every now and then to delete the "inactive" contacts.
Remember that you can re-engage dormant subscribers by doing the following:
Determine which subscribers are inactive
Learn why they become disconnected in the first place
Give them a cause to come back to you
You might be amazed at how effective this re-engagement campaign is in bringing in more engagement.
Author - Tenzin Geychok
Tenzin is an exceptional business development manager with strong planning and implementation capabilities. He's highly skilled at strategy execution with an in-depth understanding of the customers' requirements. He constantly develops newer ways to improve customer experience that boost & build brand loyalty. Tenzin is a people's person ensuring positive interactions and relationships with clients and team members giving more emphasis to value over business.