Customers are going mobile but they are tired of downloading hundreds of apps to just get reviews of different brands. On these grounds, prospects and visitors are left with only one choice – search engines. HubSpot reports on mobile-path-to-purchase confirm this trend.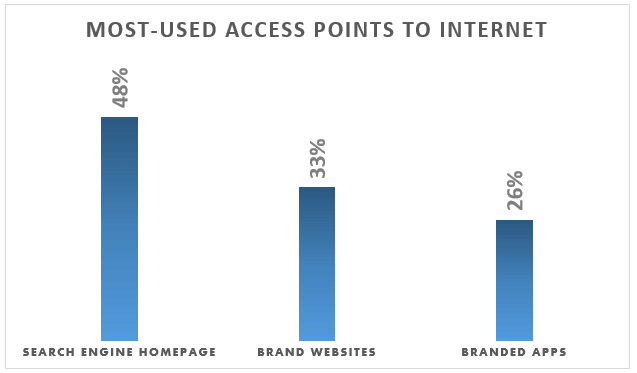 So, 48% + 33% statistics going against apps (designed specifically for portable devices) will make you think about the lacking usefulness of your website.
–          Is it good enough for multi-platform usage?
–          Is it as interactive enough as your personalized app?
A negative answer to both these questions can translate into huge losses for your lead generation campaigns. On the other hand, a data-driven website design that responds to visitor demands scores better with leads.
Data is the New Lead Generation Alphabet; Responsiveness its Dialect
Data, intricate interaction data, of viewers, visitors, sharers, commenters, enquirers – in short – every movement that ever took place on your website helps you keep track of ongoing trends and that are to come. As a result, in 2015 digital marketers invested more in market research. Technology has fostered to make data into actionable insights and work towards better lead generation. Website designs have transformed with it. Now, websites that respond in real-time make the cut.

But what is a responsive website? Here are a few characteristics that set them apart from their predecessors.
Recognizing Your Responsive Website
1.       They are optimized for devices of all sizes and compatible to all platforms. By all sizes, it doesn't only mean desktops or smartphones but also the hybrid tablets, phablets, the older generation feature phones and wearable technologies that are newly coming up in the market.
2.       Easy reading and navigation options are available with such websites that require minimum amounts of resizing, panning and rolling.  Such websites are equipped to respond to movements (jerky, flipping, side shift or others). No compromise on functionality should result in so.
3.       The website should be fast, easy to load and smooth to operate. Loading time exceeding 3 seconds will make you likely to be traded with other options.
The current world digital market is evenly poised between desktop (1.6 billion) and portable device users (1.9 billion). Concentrating or overlooking one will leave out a big part of your prospective leads out of the basket. Your target should be, as it was, the world. An intuitive responsive website with a strong data research support will get you there.
Want to get your data analytics to the next level? Talk to Span Global Services – the leader in databases, data & data-driven marketing services.
Author - Jeff Anderson
Assistant General Manager has a 12 year track record in marketing analysis, business strategy and online brand development. His expertise has enabled various organizations protect their online brand footprints. An avid traveler, he is determined to learn new languages and uncover the secrets of how successful people and companies communicate.