Ask a layman about emails, and they'll call it "so 2002-ish!" or something from the antiquity. But ask the same thing to a seasoned B2B marketer and they'll most likely say that email marketing still holds the supreme spot.
Facebook, Twitter, LinkedIn and other social networking mediums have grabbed all the attention. You may reach out to a wider audience through social media. Every day, a big number of new customers will provide real-time feedback, likes, and comments. You can gain useful information from a deluge of user-generated material, testimonials, and reviews about your products and services. The problem with social media, though, is that you don't own the platform and have no control over the numbers.
When it comes to communicating with your audience, email, on the other hand, is more dependable. This is due to the fact that you are establishing a relationship with your clients while they are in transit through the customer journey. As a result, it wouldn't be inaccurate to claim that although social media is good at reaching out, when it comes to actual converting, email marketing is simply brilliant.
There are certain aspects about email marketing that will substantiate our premise. Check them out:
1. Personalized Communication
Personalizing your communication will assist you in establishing trust with your customer. You may boost your chances of closing business by personalizing your email message to your prospects' profiles. Apart from including customer's name, other common ways of personalizing are:
Creating buyer persona
Demographic/Firmographic/Technographic Segmentation
Triggered emails
Follow-ups
You can even send tailored emails based on accomplishments, like Sephora did for their loyalty program. If a customer buys more than $200 on Sephora's website, they will receive a VIP email, whereas another customer will receive a different email.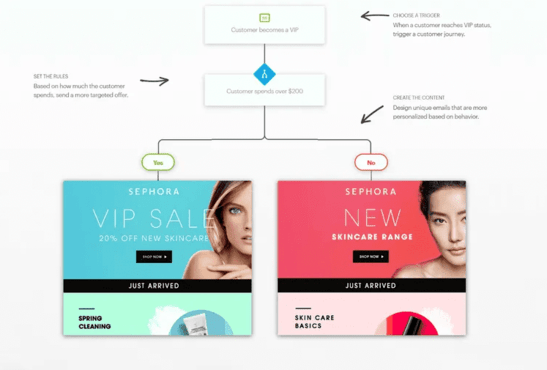 Source: Sephora
2. Easy to Evaluate
Any B2B company must measure a variety of KPIs to ensure that marketing efforts are being used effectively.
You can track email marketing efforts based on:
Open rate
Delivery rate
Click-through rate (CTR)
Conversion rate
Bounce rate
Unsubscribe rate
And many more which are very easy to calculate and gauze where is your email marketing heading towards.
3. Precise Outreach
Businesses can use email marketing to reach out to new consumers and clients who are a good fit for their services.
By exchanging great gated material for opt-in and email addresses, you may cultivate an audience that is predisposed to be highly engaged with your brand. And you get off on the right foot when you start the customer relationship by giving value and service.
4. Allows Client Nurturing
Customers might be piqued up again by email marketing long after they've completed a purchase. You can send out renewal offers and create campaigns to promote your other products and services. You may also use email to re-engage lost customers and re-engage leads that have gone cold. Reengagement campaigns are possible.
Another important aspect of the customer experience that may be improved with email is client onboarding. Drip email sequences can help you nurture a new client by teaching them how to work with you. Attempt to deliver value at every turn – this will go a long way toward establishing confidence.
5. Comparatively Economical
Time and money are the most prevalent restraints for B2B firms, and there isn't always a way around them. You may send emails directly to the inboxes of thousands of potential consumers without having to pay anything to obtain their email addresses.
Email marketing is typically less expensive than other marketing methods such as print media, direct mail, and so on. Unlike video marketing, you won't need to schedule photo shoots; instead, you'll be able to develop a visually appealing email in less than a day.
6. Broadens Customers' Perspective
Email is a versatile medium that offers the same level of versatility as your website does. It has a lot of flexibility in terms of content and formatting.
Furthermore, unlike social media, you are not constrained by the expectations of an audience when using it. On LinkedIn, for example, you're expected to appear more professional, whereas Instagram allows you to be more casual. Your email brand can be whatever you want it to be.
Email, like your website, establishes a point of continuity that allows you to communicate the whole story. This broadens your customer's view of your brand, making it easier for them to connect with you and see all the ways you can assist them.
7. Turns Subscribers into Brand Advocates
You can use email to persuade people to take action and champion your cause on your behalf. To encourage your email subscribers to become brand champions, focus on making your email marketing content more shareable.
Create emails with a customer-first mindset and deliver good material depending on what your audience will find most useful.
Conclusion:
Email marketing is still significant in 2018, and it will most likely be for the foreseeable future. Unlike social media platforms and other ad channels, you don't have to establish your business on rented ground with email marketing. Perhaps Facebook's Custom Audiences function will be disabled tomorrow, or Google's targeting possibilities will be limited. If you rely solely on third-party systems to manage your firm, you risk losing revenue streams.
This is why your email list is so valuable. The contacts are your contacts, and you are able to contact them at any time absolutely free of cost.
Author - Sujith Kumar
Chief Sales Officer, is a highly skilled orator with a keen interest in campaign management, survey development, business intelligence and social media management. Sujit has a special interest in personal branding and strongly believes that the key to success is to keep trying.