The entire world is tripping over losing out EU's potent virtual data-market in wake of its new legislative data protection reform. Though, to tell the truth, the General Data Protection Regulation (GDPR) is simply replacing an old directive ammended in another millennium, to handle a data-driven ecosphere that has evolved much ahead of its times. However, GDPR's impact on key business decisions to purchase email lists is crucial.

Last date to implement GDPR for EU Member States is 25th May, 2018. The structured and organized regulatory system is going to minimize data errors, making older contact databases of the region outdated. What this means for your business is, the right time to purchase email lists is NOW!  
Why EU is Waiting on You to Purchase Email Lists
How does GDPR change the way you do business?
GDPR emboldens the idea of customer-centricity, and with compliance, businesses can gain more consumer loyalty, accurate data and better marketing opportunities.
However, as the new regulation doesn't tell you how to do your business, it also doesn't encourage misconduct. Heavy fines have been put in place for cases of non-compliance, highest being 4% of global turnover or €20 million – whichever is greater. Hence, a lot of thought has to be put in before you purchase email lists. Each investment in data has to be accounted for in your MRoI.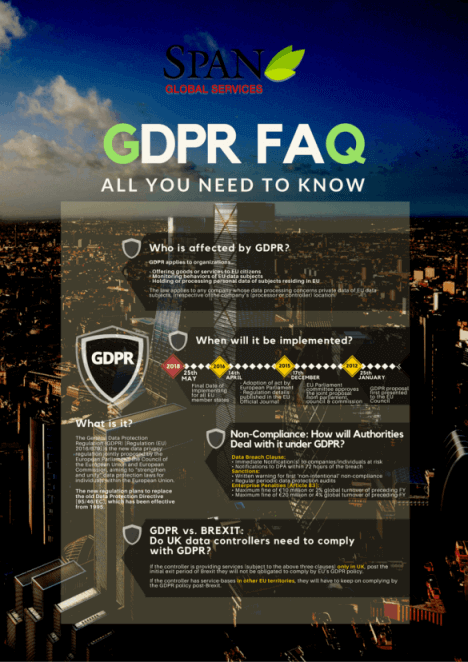 New Resposibilities for Data Controllers post-GDPR:
Follow a transparent, fair and legitimate data processing methodology
Collect data for specific, explicit and legitimate purposes only
Limit data acquisition requirement to utmost necessity and relevance
Keep contact lists accurate and up-to-date
Specify the time-limit till which the data will be held
Segment the data so that its purpose in the cluster is easily identified
Increase security measures to protect data from loss, damage and/or unauthorized/illegitimate processing
New Rights for Data Subjects post-GDPR:

Information on why their data is being collected
Seamless access to their data throughout the holding period
Rectify their data, at any time Be "forgotten" or choosing their data to be erased
Withdraw "consent" or restrict/object usage
Transmit their data to other controllers
Be notified about breaches concerning their data
Express concerns to automated decision-making and profiling relating to their data
Why is GDPR good for your business? How can you make the best of it?

In an abundantly competitive digital market, database subjects are saturated with choices. In this era of big data, regulations like GDPR are necessary tools to disperse cluttering information and establish business connections that actually matter. GDPR is a win-win for both businesses and buyers.
Build Brand Loyalty
Data subjects are aware of what value their data holds to businesses – now more than ever! They are also suspicious about how businesses use their data. A transparent and customer-centric regulation system like GDPR will help ease this tension, and built trust and loyalty towards brands. Further, subjects will feel confident to share more data.
Database profiling must focus on customer's individual preferences
Company information fields will gain privilege over industry information fields
Number of data fields will have to be minimized, giving higher focus on targeting
SEE YOUR GDPR-APPROVED DATABASE
Avail the Best Helping Hand
Even the best technological behavior analysis can't beat the subjects' knowledge about themselves. GDPR gives more power to the subject, thus enabling them to rectify and update their data on their own. This open sourcing of data cleansing not only helps the businesses to segment their buyer profiles better, but also lets the buyers themselves reach out to the right kind of sellers and vendors.
Appending of EU databases will cross three layers of approvals: subject, enterprise and regulator
Purpose and duration of data storage will have to be disclosed; acknowledged with double opt-in
Cleanliness of data will have to be ensured before each campaign
OPTIMIZE YOUR EXISTING DATABASE TO GDPR
EnablE Innovation
The game of digital marketing has evolved much ahead of the rules governing it. With the new GDPR upgrade, finally the regulations will accommodate fresh ideas rather than becoming a hindrance for them. Provisions within the law will allow B2B and B2C businesses to apply relevant and up-to-date marketing tactics and build valuable partnerships in the long run.
Highly personalized campaigns (like one-to-one conversations) will make the big cut
Ideal B2B value-additions will comprise a mix of strategic and direct revenue benefits
Campaign acknowledgements will be lengthy and will gain more importance post-GDPR
LAUNCH A CAMPAIGN IN THE NEW WORLD
How to Get Your Organization "GDPR-ready"
You have three immediate tasks at hand!
Make an internal audit of the data you are currently using and storing. This will give you an idea of how much data you can actually keep.
LAUNCH AN OPT-IN CAMPAIGN
Launch opt-in campaigns on your existing EU databases. Arrange your opt-in clauses giving special focus to GDPR.
Review your data collection funnel. Optimize each data processing stage in alignment to the new regulations.
Contact Span Global Services' 24/7 available data experts to purchase email lists for your ideal EU businesses. Want more updates on GDPR? Watch this space…
KNOW BEFORE OTHERS!

Author - Debottam Dutta

Debottam Dutta, is the VP for Business Development at Span Global Services. A technology geek with deep industry knowledge, Debottam has championed the B2B data space and enabled double digit growth for global tech enterprises. His business models have inspired partners globally to embrace data-driven partnerships. Over the last eight years he has built a reputation for developing the best business strategies, incubating new business models and expanding partner channels world-wide.