Business owners the world over grapple with one common pain point – that is their marketing is not working the way it should and is not yielding the right amount of leads. The million-dollar question is how you would fix this problem.
The true measure of marketing effectiveness is the number of qualified leads that you can generate and convert. The bottom line is that – no leads tantamount to no revenue. So the crux of the problem is to deploy the right tactics to turn the situation around and to create a steady leads pipeline and lead flow.
This would mean diving deep into the core issues that are contributing to this problem. The key to this situation is to work on providing great customer experiences (CX).
Few Good Questions You Must Have Answers For to Get More Leads
The reason for underperforming marketing programs can be many. But essentially if you have answers to these questions you can make things work in your favor.
The questions you must ask yourself include:
Are you being specific to the different customer personas in your marketing communications
Do you have a unique selling proposition that sets you apart from the competition
Are your smart goals, objectives, and marketing milestones clearly defined
Are you deploying the right strategies to execute campaigns without a glitch
Is your planned marketing investments in line with your marketing goals
Having answers to these questions would pave the way in picking yourself up and deploy the right growth leavers for marketing success.
With this vision here are some tactics you can consider to fine-tune your Inbound Marketing Strategy for better leads.
1. Device an Action Plan to Get Found in Organic Searches
With the search engine algorithms like google bring search conversion as a major factor for better ranking, you must leave no stone to convert those who come to your landing page. This being said you must also have a steady pipeline of blogs interspersed with keywords that support semantic search making you show up with relevance to the right target audience.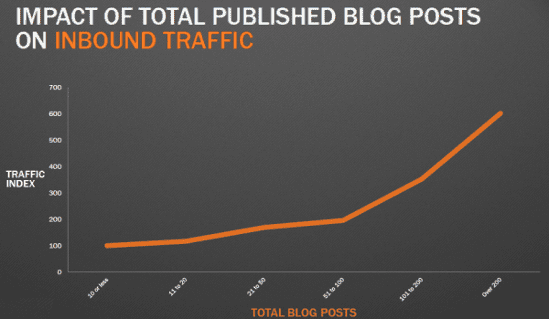 Source: HubSpot
It is observed that when you have a good number of blog posts on your site your traffic and leads are bound to increase exponentially.
To show up in organic searches you must see that your content marketing, web architecture, social media marketing strategies are tied with measurable insights from search engine analytics.
This plugs lead leakage and ensure that you have tightly integrated and optimized workflows geared to provide you with more leads.
2. Utilize the Power of Social Media
Social platforms like LinkedIn, Facebook, Twitter, or Instagram have enterprise users constantly engaging on the platform and this can enable you with the right traction for your marketing efforts.
This can truly complement your outbound efforts too!
Social media is a different ball game altogether. You can come up with creative ways of linking burgeoning events with what you want to promote. If you can engage your followers and get them involved in conversations and fuel the discussion further with services and solutions you can offer – you can see a steady influx of leads – via well-thought-out promotional content.
By asking the right question, getting opinions, and crafting creative campaigns you can tap into the sharing potential that is innate about social media platforms.
3. Acting on High Performing Landing Pages
It is as simple as deploying a code snippet in your site to track how the landing pages are performing and the kind of engagement it is driving.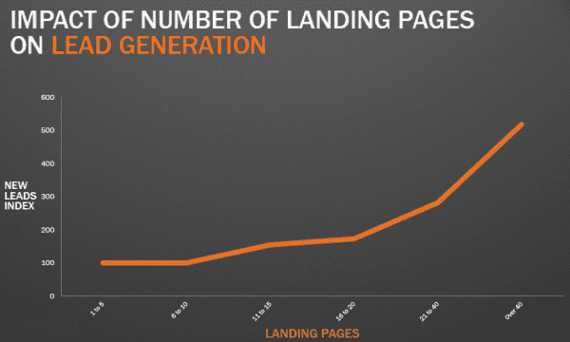 Source: HubSpot
It is observed the more number of converting landing pages you have on your site the higher is the probability of getting new leads.
Once you have identified the high traffic landing pages they can be tweaked to perform even better through optimization exercises. This can help you amplify the conversion rate on the already popular pages by two folds or even three folds.
Improving conversion rates can improve your leads to a great extent.
4. Making Sales and Marketing Align Towards a Common Goal
Your inbound leads must be given the proper attention by bridging the divide that exists between sales and marketing.
It is good to understand that each of these teams has a significantly different role to play but they must work collaboratively towards the larger business objective of qualifying and nurturing the leads.
There must be a concerted effort to see that the inbound leads are assigned to the right people in sales and setting the right context by seeing that people from sales know how to interpret inbound lead data by knowing where to find them.
Accurate record-keeping and prompt follow-up action on lead inquiries will ensure that your inbound ROI is realized without any glitch.
In Conclusion
It is good to note that to be successful when your inbound marketing is not working you must keep your buyer needs, preferences, and processes at the heart of all decision making.
The result will not be forthcoming if you simply go ahead with the routine actions without keeping the buyer in mind.
You are bound to see steadily growing results that will compound over time when your keep the buyer at the core of everything that you do.
Author - Debottam Dutta

Debottam Dutta, is the VP for Business Development at Span Global Services. A technology geek with deep industry knowledge, Debottam has championed the B2B data space and enabled double digit growth for global tech enterprises. His business models have inspired partners globally to embrace data-driven partnerships. Over the last eight years he has built a reputation for developing the best business strategies, incubating new business models and expanding partner channels world-wide.