There are many social media intelligence tools available to monitor and manage your marketing effort on a particular social media channel. Irrespective of the social media platforms used, appropriate social media intelligence tools or services can be found to provide an outline of the penetration of the channel. Mostly these tools have a web interface attached to a cloud platform that collects the data. Channel-specific tools are important for a bird's eye view to understand the effectiveness of a particular social media activity. Most of these tools are developed in a way that you can make an informed decision about your strategy on the whole. While most tools can give you an outline, they fail to give you details about predictive buying behaviour, grievances etc.
Social Media Intelligence Tools – Scorecard
Social media scorecards are generally cloud-based platforms that collate social media data sources together, including communities and blogs. They incorporate the process of crawling across the vast amount of data available relevant to the content circulating on social media platforms. They have a massive backend infrastructure that helps in storing the huge amount of data collected. After a pre-determined time these data sets are developed with filters to make them suitable for screening for the information that you seek; across a broad range of channels. The results are displayed in the form of a social media scorecard (Figure 1: Illustration of a sample scorecard) that combines different graphical and tabular techniques for displaying the summarized information. The type of the scorecard display can be chosen according to the type of information requested. Many scorecards also have an interactive zoom-in kind of feature to see further details, as deep as the source of the data.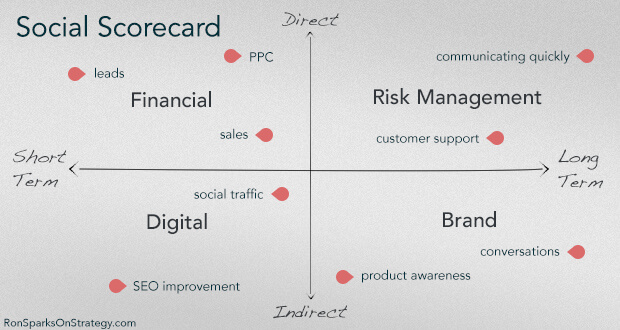 These scorecards are very good for monitoring. You can reach a particular standpoint on such topics as positive and negative users and writings as well as the quantity and relative popularity of an individual or a topic. The limitations of scorecards are that the data collated and displayed by the cloud forum cannot be made available for improvement, troubleshooting for responses or for doing any sort of predictive analytics.
Author - Edward George
One of the most charismatic leaders at Span Global Services, Edward assists strategic planning initiatives that help to promote an overall brand image of excellence. George is also a renowned B2B brand evangelist and blog writer. Backed with 15 years of client management expertise, George currently helps businesses achieve success through data-driven digital techniques. He ardently follows the lead by example principle and helps to maximize business performance of the organization and its clients.