If your list is bad, the first thing that will be hurt is your email deliverability. Poor deliverability will result in poor open rates, poorer click-throughs, and worse conversions. And like the one rotten apple in the basket, one bad email list will contaminate your campaign statistics bunch.
Save your marketing ROI. Don't purchase email databases for the sake of purchasing. Know what you are buying, and what you are leaving out.

10 Must-Checks When You Purchase Email Databases for Your Campaigns
When you have purchased a rotten list to send your campaigns, email deliverability is not the only thing that will be in harm's way. Your entire brand image will bear heavy bruises. Here are 10 indicators that tell you when to back off from the 'purchase' handle during the list purchasing process: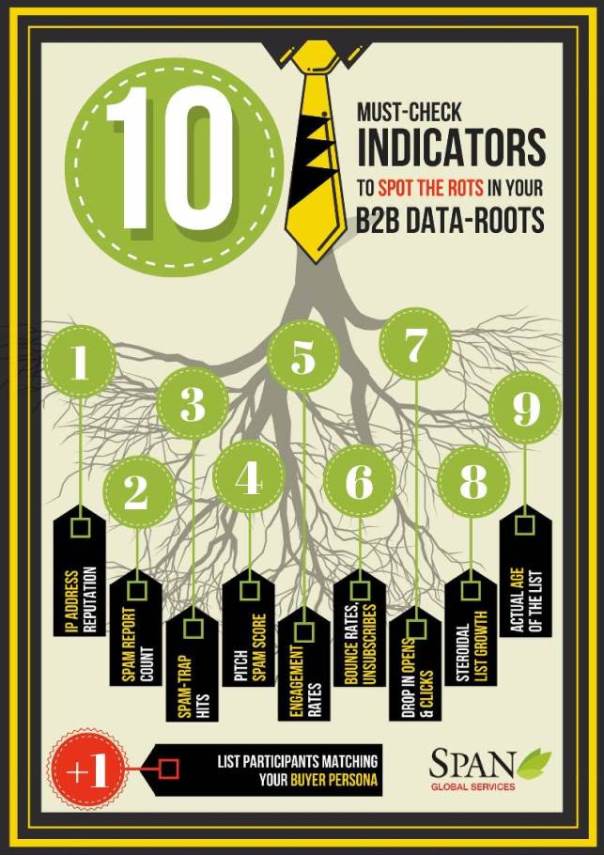 Purchase Email Databases after Passing these 10 Quality Checks:
1.    IP Address Reputation
This indicator comes prior to your decision to purchase email databases for your marketing campaigns. IP address reputation is the digital version of your business's real-world goodwill. Low sender reputation means you have to cross the ISP's (Internet Service Provider) ring of fire every time you want to send a campaign, that's until they block your campaigns altogether. A lot of points go to the type of addresses that you are sending your mails to.
Resolve:
Before purchasing the list, scan your sender IP address(es) for black-listing. There are websites (eg: MXToolBox, DNSStuff etc.) and free tools which can check it for you.
2.    Spam Report Count
ISPs have a low tolerance for spams (especially when it is reported by the recipients). An ineffective (not updated) target list will see spikes in report counts. After a certain limit, this will eventually lead the ISP to discredit your entire campaign, and your sender score will also take a hit.
Resolve:
Before you purchase email databases on an entirety, launch a test campaign on a random sample from it. The email delivery rate and the number of hard bounces combined will give you a fair idea of how your list will actually work on whole.
3.    Spam-trap Hits
Email service providers deliberately hide trackable email addresses ("spam-traps") in faulty email databases. It's like fishing, and spam-trap hits are like how many times your campaigns have taken the bait. Your sender reputation goes down with every hit.
Resolve:
Your database providers can be requested to provide focused list cleansing for spam-traps while you purchase email databases.
4.    Spam Score (for the pitch)
Personalization is the new golden rule for email marketing campaigns. Your mail pitch is matched with the intended target audience group, and based upon the level of relevance, you get to see your emails reaching recipients. Generic offering mails to an unsegmented list have high spam scores. Also, sales-y words like "offer", "free" etc. get you extra heat from the ISP.
Resolve:
Big and mid-level marketing agencies can make use of the umpteen numbers of mail-checker software (eg: SPAMfighter, DesktopOne, MailWasher etc.) available on subscription basis. Low-budget or individual marketers can make use of online free tools (eg: IsNotSpam, Analyzo, Sendio etc.) to rate their mails for spam content.
5.    Engagement Rates
Email regulators scrutinize past reading preferences of subscribers on an individual level while permitting a mail to reach their inboxes. Engagement rates decide the delivery-worthiness of your mail. Generic emails to an unsegmented target audience will fall in the bad eye of the ISP and your campaign would fail instantly.
Resolve:
The best probable reason is that your list lacks vital information about the prospect's current activities. Make a thorough research and append the fields your database needs.
6.    High Bounce & Unsubscribe Rates
These are direct quality-checks of your email databases. It makes total sense for a person to not read (bounces) and unsubscribe from your mails if they are unfamiliar to your business or your kind of offering. High unsubscribe rates also mean that the list you chose is not an opt-in list.
Resolve:
a) Launch a lucrative opt-in campaign before your regularize the list for targeted campaigns. It's a simple and useful technique to save you from future spamming hassles.
b) Keep a check on bounces. After five soft bounces on the same address, register it as a hard bounce.
7.    Abnormal drop in Email Opens & Click-through Rate
Not being interested in your offer is one thing, but 0.1% (so to say) open rates from a mailing list of thousands means your mails are not reaching the right audience. Same for click-through rates. Proper email lists combined with a simple pitch can gain open rates close to 20-30%.
Resolve:
Test your campaigns by elimination method. Try different versions of it. If the results remain the same, your list needs an update.
8.    Email List Growth is Steroidal
A list can go bad simply by not organizing your target audience. Putting them all in one big pot without segments will lead to confusions in targeting prospects. While you purchase email databases for a specific purpose, you will find yourself scrambling for the right target group, and end up collecting the right leads from either secondary sources or paid portals. Such steroidal growth lacks in quality versus organically generated leads.
Resolve:
Steroidal growth indicates that your purchased list is near its expiration. Renewed focus on a new list segments can bring it back to life.
9.    List Age
Like bread in a bakery, your database also loses freshness over time. On an average, one-fourth of any marketing database decays in a year. The list you freshly bought maybe on the shelf of your list provider for another year.
Resolve:
Ask your provider for the last patch date on the list you intend to purchase. This will give you an indication of the last update and an idea of how old the list actually is.
And finally the 10th and the most important indicator, purchase email databases that match your buyer persona. Contact our digital marketing experts to help you create a single marketing window for all your multiple buyer personas. Get your first 50 contacts appended for free!
KNOW BEFORE OTHERS!

Author - Edward George
One of the most charismatic leaders at Span Global Services, Edward assists strategic planning initiatives that help to promote an overall brand image of excellence. George is also a renowned B2B brand evangelist and blog writer. Backed with 15 years of client management expertise, George currently helps businesses achieve success through data-driven digital techniques. He ardently follows the lead by example principle and helps to maximize business performance of the organization and its clients.