No matter what kind of a business you're involved in, just keep in mind that not everyone on your email list will be interested in the same offers or information. Using the same message and promotional content for everyone will just result in the same people ignoring your emails time and again. And even when you would send them an email that might be relevant to them, they'll simply delete it or mark it read without actually reading it.
You must be wondering what if we could send different emails to different recipients such that each recipient received the relevant message, i.e. exactly what they're looking for. Although not to an individual level, but your recipients can be grouped so that you can send them specific messages, and you can be sure that they would be interested. Such groupings are called segments.
What is Email Segmentation?
Email segmentation is the split of a mailing list into several groups and sub-groups based on commonalities in order to send the most relevant information and proposals to the right people at the right time. It entails categorizing your marketing list by job title, age group, background, geography, and other factors.
Among the many benefits of segmentation, the ability to personalize the communications is the most vital, and all the other benefits revolve somewhere around it. In this post, we'll throw light on five reasons why you should segment your email lists.
5 Reasons to Segment your Email Lists
1. Allows better campaign targeting
It is possible to target unique targeted campaigns to certain client groups by segmenting your email lists. This could entail providing higher discounts or special incentives to your most devoted consumers. This will make them feel more appreciated, which will encourage them to return.
You can also generate customized vouchers or promos based on the demographics of your email list. The idea is to discover an offer that appeals to that group, get them to at least click on the ad to learn more about it.
It takes a little more effort, but the results are far more effective. You want people to interact with your ads, and showing them that you're trying to appeal to them specifically can be one of the most successful ways to do so. Even though the campaigns differ in appearance, they can all be utilized to drive sales toward a given product or service.
2. Enables maintaining a robust database
Knowing which users are still active versus those who are not is critical to the overall effectiveness of an email campaign. Your business will be able to pinpoint this when you segment your email list.
As a result, reaching out to certain groups becomes much easy. Perhaps you could come up with a more appealing offer for inactive users who haven't responded or clicked in a while. Alternatively, it could imply making a more enticing offer for those who have remained loyal.
The purpose of an email-based marketing strategy is to identify the various segments of your target audience. You can then appeal to or reward those parts as you see fit, but ultimately, knowing who you're appealing to is key. This will enable your business to make significant strides with a far more effective and cost-efficient marketing campaign based on a robust database.
3. Improves efficiency by enhancing various email metrics and KPIs
Email marketing efforts with segmented mailing lists are more focused and appealing. In comparison to non-segmented campaigns, email marketing segmentation considerably enhances open rates, click-through rates, and other email metrics and KPIs as depicted below: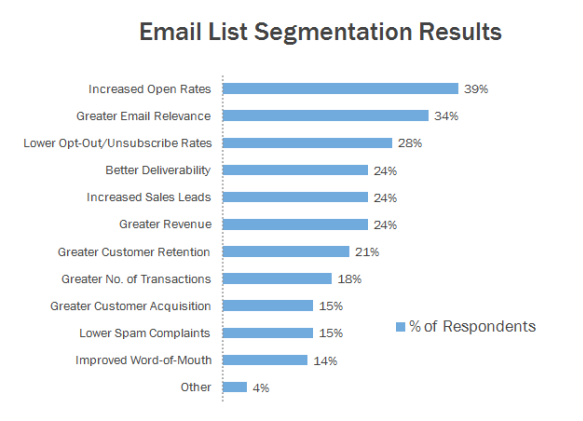 Source: SendPulse
4. Enables effective communication
Connecting with your target audience is the single most critical thing any company can do. They want to know and feel the same things as the audience. Businesses that are able to do so are able to expand their brand more than ever before and generate more consistent revenue.
However, this necessitates personalizing your campaign's messaging to certain segments of your email list. Finding the proper people to engage with and personalizing your message to them is easier than it sounds, but it may result in a successful email campaign.
Even better, when it comes to providing your audience exactly what they want, when they want it, segmenting is both cost-effective and simple. There's no reason to waste money on a marketing plan that frequently misses the goal and, as a result, wastes your money.
5. Improves business reputation
Your audience responded more naturally to emails that contained targeted and valuable content. High-quality content in their inboxes is appreciated by recipients. They have faith in and rely on those who provide them with this information, and they eagerly await more.
Bottom line
By segmenting your email lists, you may more easily offer customized campaigns to certain client segments. You can, for example, give special incentives and discounts to your loyal consumers, making them feel valued and encouraging them to continue supporting your brand or business. Therefore, before planning your sales and marketing campaigns, make it a habit to segment your email lists into respective categories based on demographics, firmographics, technographics, and even geographies so that the right message goes to the right inbox.
Author - Mukundan A P

With having spent over 18 years with the Champions group leading the APAC territories in the data domain, Mukundan has a reputation of helming some of the most formidable projects in the B2B sector. He is known for his ability to build relationships and make headway for his clients using his expertise in data driven solutions. Having worn a plethora of caps in his vast career he is not an individual of singular talents. Mukundans ability to handle multiple roles and his immense success makes him one of the finest leaders that this industry has seen.