About 306 billion emails are sent and received each day. A working professional, therefore, must be receiving more than hundreds of emails per day, on an average. Are all of these emails opened and responded?
With an open rate of 15-25% considered healthy across industries, it can be said that less than half of the emails only are opened, leave aside responding to them. The question, therefore, arises that is email marketing a strategy worth investing upon?
With a return of $40 on investment for every $1 spent, email marketing is still the most efficient and direct method of reaching out to prospects.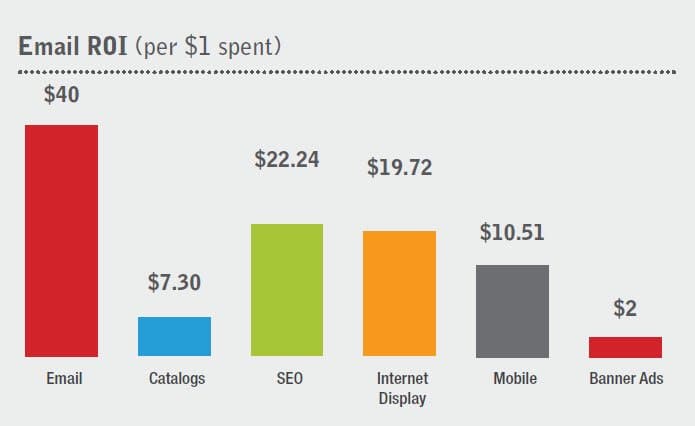 Source: Neil Patel
Every business wants to be a huge success, and sales are a big part of that. A formidable sales team is critical to an organization's success since it is the initial point of contact between a company and its clients. The efficacy of a sales team is determined by the communication channel's efficiency. Email is a powerful tool in the sales funnel.
Writing a sales email is a personalized communication approach since it sends a personalized message to the customer directly. A good sales email is like a weapon of mass "conversion" for sales teams. Let us learn to develop this amazing weapon in 7 easy steps.
1. Craft a catchy Subject Line
The Subject Line conveys the email's context. Its goal is to let readers know what to expect in the email. It must, therefore, pique the user's interest and focus. When you write sales email, keep in mind that the subject line should not appear forceful or pushing.
Try to avoid using "spammy" words like 'Donation', 'Discount', 'Unique', etc., in your subject lines.
Example:
Ideas for [something that is important to their business].
Questions about [a recent event].
Have you considered [recommendation or thought]?
2. Create a relevant Preview Text
The preview text shows the first line of the email's content. It shows the material next to the subject line for a brief moment. It would be beneficial if you carefully created the preview considering it to be a pass-or-fail situation.
Make sure your sales email's preview text doesn't contain any generic information, like "Read this email to know…" or "I'm getting in touch with you to…"
The preview text, just like the Subject Line should give subscribers a sense of the value they will receive by opening the email.
Example:

Source: Sleeknote
3. Begin with a powerful Opening Line
Do not expect to engage your recipient with "Hi, my name is…" Because neither it's the 1950s, nor you are a James Bond! To write a sales outreach email that converts, your opening line must make the recipient believe that there's a human being on the other end. Begin with something more impactful, such as a conversation with your reader.
Example:
You were referenced by [mutual connection].
I'm grateful for your interest in…
Why do you favor…
4. Present the message in the Body
The body copy of your sales email should add value by linking your company to your prospect. Avoid generic value propositions like "We assist online marketing firms grow lead generation by 200% and ROI by 400%."
The best approach is to ask questions that aligns with the prospects' goals. In that way, you'll also create a good impression by making the recipients realize that you've done enough research about their organization.
Example:
Are [product benefits] a top priority for you?
Will resolving [their issue] assist you in getting better results?
What steps do you intend to take to strengthen your strategy?
5. Include a Deadline
Give a deadline if you're waiting for a response to a proposal. Of course, do it in a stylish manner. Make it clear that this isn't an ultimatum. To guarantee that the process goes on, you want to create a sense of urgency while also applying some friendly pressure. This is one of the sales email best practices that marketers often shy away from. When you mix action phrases with a deadline, however, you generate a sense of urgency in the prospect. The deadline serves as a reminder of why it's critical to act quickly.
Example: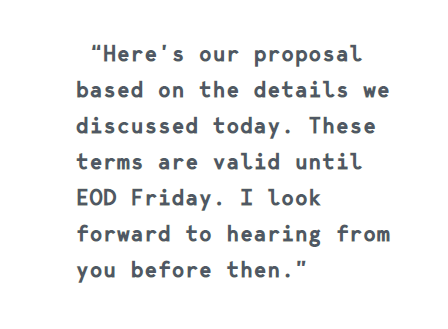 Source: Sales Hacker
6. Include an appropriate CTA to initiate action
It's pointless to write a great story if you don't get your audience to take action. Everything up to this point had been a journey towards a goal. The CTA is the place from where you'll directly reach your goal. This is where the actual sales will take place.
Example:
Is it reasonable for us to speak? If not, who would be the ideal person to speak with?
Please let me know if [business goal] is a top priority for you right now or in the future.
Do I have your permission to close your file if you aren't interested?
7. End it with a professional Signature
In the internet world, an email signature functions similarly to a business card. It should neither divert the readers' attention nor should it look mundane. For best results, stick to the following email signature guidelines:
Keep it short, simple, professional, and on-brand.
Include your phone number for contact purposes.
Include a link to your online profile of choice, Instagram, Twitter, LinkedIn or Facebook.
Avoid images and quotes.
Wrapping it up
Use these 7 steps and create an effective sales email. And always remember, the sales process is essentially "email first, phone second" approach. Emails, therefore, should be used to build interest, coordinate meetings, and deliver ideas as a salesperson. Do not consider using emails for actual selling; this should be done by phone or in person.
Author - Debottam Dutta

Debottam Dutta, is the VP for Business Development at Span Global Services. A technology geek with deep industry knowledge, Debottam has championed the B2B data space and enabled double digit growth for global tech enterprises. His business models have inspired partners globally to embrace data-driven partnerships. Over the last eight years he has built a reputation for developing the best business strategies, incubating new business models and expanding partner channels world-wide.