The proliferation of technology into marketing has transformed enterprises by introducing Martech Stack—a set of tech tools and software used by marketers to enhance their marketing campaigns. Automation is one such Martech that has become an integral component of digital marketing. It has given marketers an effective way to connect with and engage customers in a quick and efficient manner. The total revenue of marketing automation has been on a consistent rise: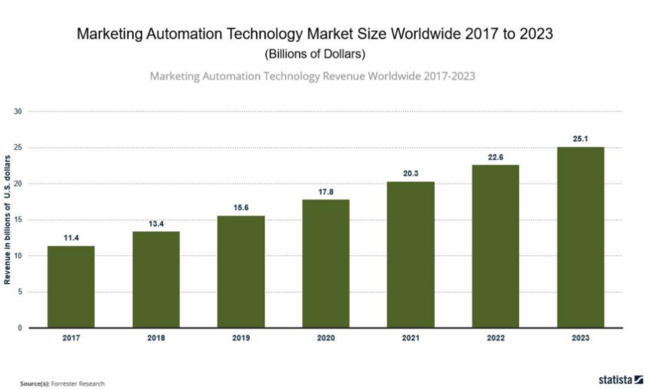 Source: Statista
Also, according to Forrester Research, B2B marketers with the help of marketing automation tools can enhance their sales pipeline by 10%.
Delivering personalized experiences to the respective segments, streamlining social media posting, and completing repetitive tasks across various channels, Automation helps in achieving better marketing outcomes within shorter time intervals along with reduced labor investment. Thus, scaling your marketing campaign becomes considerably easier with Automation.
Here are 6 valuable tips that will allow you to make the most out of leveraging Automation to scale your B2B campaign:
1. Automate Your Lead Scoring
Automation software allows you to determine how a particular lead interacts with your marketing collaterals, like emails, whitepapers, campaigns, website, etc. By noting down the number of page views, clicks, downloads, emails opened, etc., you can assign a particular score for each activity. When the total score reaches a certain pre-determined number, the automation software will trigger communications with the lead.
Automated lead scoring enhances your marketing endeavors in two ways: First, you can determine the inclinations and interests of your leads from the activity metrics that will help you become future-ready. Second, lead scoring allows lead nurturing when the customers are communicated, eventually driving them further down the sales funnel. At this juncture, your sales and marketing team working in convergence can determine when particular leads are sales ready.
2. Harness the Power of Social Media Automation
We are living in the age of social media as it has become an integral part of everyone's life. It is, therefore, imperative for B2B enterprises to have a robust social footprint. With automation, you will be able to make frequent tweets or posts scheduled on a regular basis. With events unfolding across the globe, your social media presence will also have a more holistic disposition with tweets and responses to current affairs, along with reacting to the happenings in your own business domain.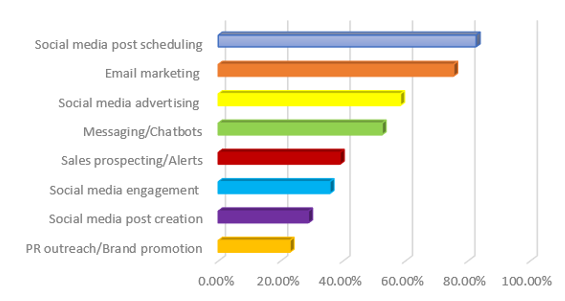 Source: Social Media Today
An automation software, apart from scheduling and posting on social media handles, is also geared with analytics and tracking. It simply means that a post can trigger the automation software to send bespoke communication to someone who likes, comments, or shares your posts on any of the social media channels, thus, generating leads for your business.
3. Leverage Predictive Marketing Automation
Technologies like Machine Learning and AI have reshaped the marketing landscape by introducing futuristic modelling. An automation software powered with Machine Learning and AI, and an intelligently designed database sets forth Predictive Marketing. The key is to determine the changing customer requirements in real-time. With the insights thus obtained, marketers can plan and execute tasks such as planning budgets and resources, segmentation and personalization, lead scoring, lead nurturing, predicting campaign effectiveness, and customer acquisition and retention.
4. Automate Your Emails
Email marketing still rules the marketing jungle. With a return of $42 for $1 spent, emails are one of the most effective marketing channels today.
With proper segmentation and personalization, automated email marketing can do wonders for the business allowing the marketing campaign to scale considerably. The key is to send concise message with clear-cut CTAs (call-to-action) that will motivate the recipient to click on the link.
With marketing automation in place, you can then determine the metrics such as open-rate and clicks, based on which you can place your leads in appropriate segments of the B2B lead generation process, like 'interested', 'highly interested', 'coldly interested', etc. Consequently, you can communicate with them based on which segment they belong to.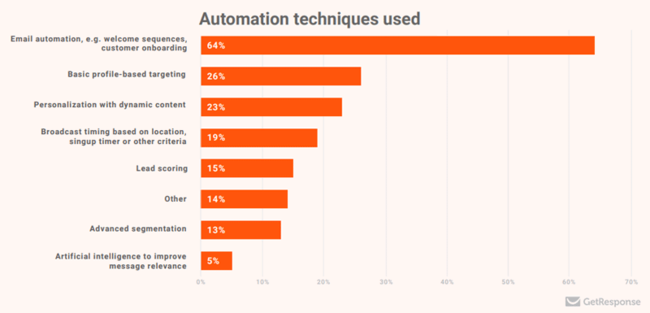 Source: EmailMonday
5. Utilize Your Bots and Give them a Human Touch
B2B enterprises must look at leveraging chatbots beyond customer service only. Chatbots, if used properly, can be a great lead generation strategy. They can be easily integrated into the marketing automation software and used in a sophisticated and interesting way to determine your audience and their preferences. For example, you can create interesting surveys and rewards with the help of chatbots to determine which product is in demand for a particular demographic segment.
Most of the people today know that Robotics and AI have paved their way into enterprise customer service. An effective chatbot, therefore, is the one with a human touch. And it can generate leads significantly.
6. Automate Landing Page Creation to Improve Post-Click Experience
Most of your post- click marketing efforts will bring your prospects on the landing pages. So, it is important to automate these landing pages where if a user fills a form, they can be immediately contacted. With a series of emails that act as touch points, you can develop a better relationship with the lead ultimately converting them.
Automated landing pages make lead nurturing quite efficient, and nurturing indeed results in a significant percentage of more lead generation compared to the no nurturing at all.
Recap
Marketing Automation can play a significant role in scaling B2B campaigns for businesses by optimizing the marketing efforts to broaden their outreach and generate better leads in a time-efficient and cost-effective manner. To succeed as a B2B marketer in scaling your campaigns, you must automate your lead scoring, email marketing, and landing page creation with a marketing automation software. You must also leverage social media, predictive analytics and chatbots for lead generation. With these six tips right in their place, your B2B campaign scaling will be up-and-coming, no matter what your business domain be.
Author - Mukundan A P

With having spent over 18 years with the Champions group leading the APAC territories in the data domain, Mukundan has a reputation of helming some of the most formidable projects in the B2B sector. He is known for his ability to build relationships and make headway for his clients using his expertise in data driven solutions. Having worn a plethora of caps in his vast career he is not an individual of singular talents. Mukundans ability to handle multiple roles and his immense success makes him one of the finest leaders that this industry has seen.