When it comes to sales and marketing, you have to rely a lot on data. So, data forms the basis of any business activity, and any engagement we are involved in today is creating data in some format or other. Essentially, data is being created, analyzed and consumed in epic proportions.
With all this buzz around data, enterprises today are grappling with the challenge of clean, cleansed and accurate data. But, unfortunately, most enterprises are dealing with inaccurate, bad data and disconnected data.
The Importance of Clean Data
Clean data is essential to run marketing outreach and for the successful execution of activities in the different stages of the marketing and sales funnel. In short, data scrubbing becomes a predominant element that governs your sales strategy.
But the reality is many companies find it hard to maintain their data repositories free from bad, inconsistent and redundant data. This is also attributed to the fact that enterprise data degenerates at the rate of 28-30% annually.
According to the Gartner survey, bad data costs businesses over $9.7 million annually. This underlines the need to reactivate and refresh your data by employing the best of the breed data scrubbing solutions.
Quality data will result in higher ROI's, quality leads, improve campaign deliverability, and improved customer satisfaction.
Best Practices for Scrubbing Database
Scrubbed data helps you streamline your sales strategy with quality sales data. As a result, you can move away from everyday operations of administering and updating the data and spend your time more on fruitful engagements like sales strategizing, networking and selling.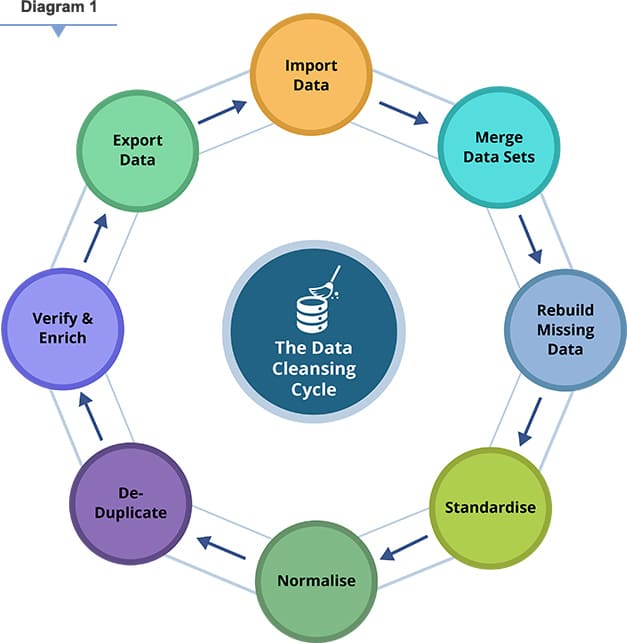 Source: DataEntry Outsourced
Here are some of the fundamental steps to scrub your data.
Validate the data for accuracy – it can be done via tele-verification and ping tests for emails
Eliminate Duplicate Records – done manually and running de-duplication scripts
Removing Inactive and Junk entries – by employing algorithms and manual verification
Formulating Stand Operating Procedures (SOP's) to ensure that bad data does not creep in from different data entry points and ensuring that bad data issues are nipped from the bud.
Provision a process in place to take care of data scrubbing at regular intervals.
Impact of Duplicate and Redundant Data on your Sales Strategy
Let's take a plunge into knowing how database scrubbing can progressively and positively impact Sales Funnels and ultimately govern your sales strategy.
Most CRM's like SAP C4C rely upon data fed manually into the system by the CRM teams, and in some cases, it can be a bulk upload in the form of excel sheets which can be highly error-prone. The CRM tool essentially eliminates duplicates by running a combination check on the phone number and email ids.
With individuals changing job roles, companies or being promoted results in a change in contact details and can result in a lot of duplicate data creeping into the marketing ecosystem. The inbuilt CRM duplicate check might not be robust enough to eliminate these duplicates.
When an already existing prospect comes in contact with your CRM team on a different number, the CRM platform may interpret it as a new account and add it as a new entry in the existing database.
As a result, you would have multiple instances of the same campaign emails going to the same individual, making the emails look "spammy" and not making the right impact. There can also be issues where emails are not being delivered due to a missing @ symbol or period in the email.
This can have severe repercussions on your sales strategy and negatively impact your business. However, employing the proper data scrubbing techniques can help you quickly turn this situation around.
The Import of Data Standardization for your Sales Strategy
Typo errors and standardization issues can result in more duplicates. It is sometimes hard for systems and platforms to differentiate and distinguish the same phone numbers having the country code separated by braces, periods or hyphens.
In this case, the inbuilt duplicate check on CRM platforms will fail to uniquely identify individuals and accounts with its inbuilt de-duplication logic to effectively merge the contacts. This can result in you losing credibility as a result of poorly executed campaigns.
Also, campaign deliverability can take a hit resulting in you not meeting your sales objectives. So again, to maximize the deliverability of your campaigns to over 95%- 98% and to maintain sender reputation, you must employ the right amount of data scrubbing to cleanse, append and enrich data.
In Conclusion – Data Scrubbing for Better Decision Making
Scrubbed data helps improve productivity and speed of applying the data as end-users need not waste their time confirming the accuracy of the data. In addition, with good scrubbed data by your side, you are sure to mitigate the impacts of bad data, which can give you the confidence to make better business decisions.
Clean data is the foundational pillar for streamlined sales operations and better decision making by providing you with the right leavers to deploy your sales strategy, business analysis and reporting solutions. Scrubbed data enables you with proper data segmentation and also plays a pivotal role in increasing your ROI by helping you precisely target your customers.
In essence, scrubbed data can truly direct your sales strategy and improve your business relations!
Author - Tenzin Geychok
Tenzin is an exceptional business development manager with strong planning and implementation capabilities. He's highly skilled at strategy execution with an in-depth understanding of the customers' requirements. He constantly develops newer ways to improve customer experience that boost & build brand loyalty. Tenzin is a people's person ensuring positive interactions and relationships with clients and team members giving more emphasis to value over business.