The average net worth of the food and beverage industry has increased exponentially due to advancements in technology and rapid changes in the marketplace for content.
Just like any other industry, there are many different types of customers looking for good food and beverages from restaurant chains the world over. Knowing who your potential customer base is will help shape the business decisions on how to cater to them.
Let's understand a few of the time-tested food and beverage marketing strategies you must focus your energies on to make a strong presence in this market.
1. Building Brand Positioning and Brand Image of Your Business
Brand positioning is all about how you as a business venture defines your brand or image. When done correctly, it can give your food and beverage business an edge over competitors, leading to higher sales and profit margins. There are many different ways to position your restaurant business using cohesive branding elements targeted at particular customer types and demographics.
Consumers are more interested in the sustainability and ethical practices of food sellers than ever before.
2. Importance of Packaging
Packaging is an integral part of the food and beverage industry. Packaging includes labeling, branding, promotion, and marketing. Packaging also includes such practices as merchandising, where companies strategically place their products on shelves throughout a store to draw consumer attention.
Another key aspect of packaging is conveying the Unique Selling Proposition (USP) that focuses on how your product or service stands out from the competition.
3. Food Blogging to Exhibit your Culinary Capabilities
People share their personal experiences with restaurants through social channels. Therefore, what you post on social platforms greatly affects how your business is perceived by potential customers and helps you promote what you do best – dishing out great food!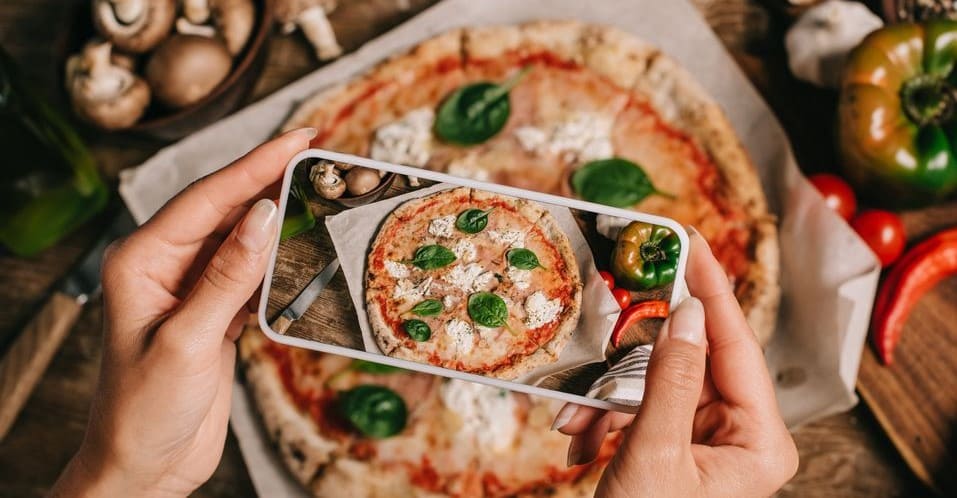 Source: Digital Silk
Food blogging on social media platforms can help show off your culinary capabilities to the world and is a good source of feedback and suggestions to improve your business. It's about time you build a strong online presence and start trending on hashtags.
4. Listing your Food and Beverage Business on Online Directories
Listing your food and beverage business on online directories is an important way for you to find your target market. Getting yourself listed on online directories like Yelp is a great way to get started.
Listing services for the food and beverage industry are gaining popularity. Listing is due in part to the ease of access to new business opportunities that sites like Craigslist provide.
Optimizing your profile on Google My Business (GMB) is also a great way of making yourself accessible to the world.
5. Email Marketing is the Way to Go
Email marketing has become an integral part of any business. For example, we can use email marketing to generate business for restaurants opening in new locations or generating interest in reopening closed restaurants.
Individuals from major corporations and enterprises spend a considerable amount of time in their inboxes and are a great way to reach out. Also, many general consumers are constantly looking for great deals and promo codes from their favorite restaurants. There is no better way than reaching out to them than email marketing.
6. Hosting Events at Restaurants
It's not just about the food and serving it to customers; it's also about implementing and promoting great food marketing ideas. You have to make sure that people know where they can find you and what makes you different from every other place on the block. One way of doing this is by hosting informative events in your restaurant.
It's an exciting time for foodies! Food festivals have become a popular way to explore new tastes, cultures, and trading opportunities without ever leaving home.
7. Following Reviews and Ratings and Building Brand Reputation 
Source: Digital Silk
Restaurant reviews are a great way to know your consumer's opinion regarding the quality of service, food quality, and price. Staying on top of this feedback will help you better your services.
When it comes to brand reputation, it is often the case where consumers learn about your business via word-of-mouth because their peers recommended them. This is why it's so important for your food marketing ideas to be genuinely liked and to keep your customers happy and engaged by providing great service.
Reputation management is essential to the success of any business. Your business reputation can also impact your public relations with customers and your employees' morale, and how well they can stay ahead of their competitors.
Conclusion
We at Span Global Services understand that the food and beverage industry is huge, spanning across the four corners of the world. It is a diverse environment with prospects for investment across various sectors.
Author - Mukundan A P

With having spent over 18 years with the Champions group leading the APAC territories in the data domain, Mukundan has a reputation of helming some of the most formidable projects in the B2B sector. He is known for his ability to build relationships and make headway for his clients using his expertise in data driven solutions. Having worn a plethora of caps in his vast career he is not an individual of singular talents. Mukundans ability to handle multiple roles and his immense success makes him one of the finest leaders that this industry has seen.