The traditional way of driving business is through leads generation. However, this is more of a reactive form of doing business.
The better way to approach marketing would be to go after accounts instead of leads. Here you are more aggressive in your marketing by moving away from a defensive mode of doing business. Instead, ABM is all about going after accounts that you are sure will drive your significant revenue.
Though Account-Based Marketing (ABM) has been around for a while, companies have only recently started seeing the true potential.
Let's dive deep and unearth the crux of running successful ABM campaigns with customer data.
1. Drawing Insights from Data about your Existing Customer Base
Unlike in the past we presently have the right technology to support ABM campaigns backed with customer data.
Your existing customer data in your CRM platform can be a valuable source of ammunition to kick start your ABM campaigns. It doesn't matter if your existing customer base is significantly small at this point.
It is best to identify the customers that buy the most from you, respond and renew your services, and customers who are generally happy and have had successful engagements with you.
These are ideally the best customers you would want to target. It would be beneficial to build a list of these customers for ABM campaigns. This would give you insights into the market segment and what type of customers and accounts you are already successful with.
This identification of customers can help you go after similar accounts that meet this criterion by deriving insights out of data.
2. Using Customer Data to Create Ideal Customer Profiles (ICP)
This phase involves identifying and gathering intelligence on the characteristics of crucial decision-maker profiles of accounts that have already engaged with your products and services and who are looking out for more assistance from you.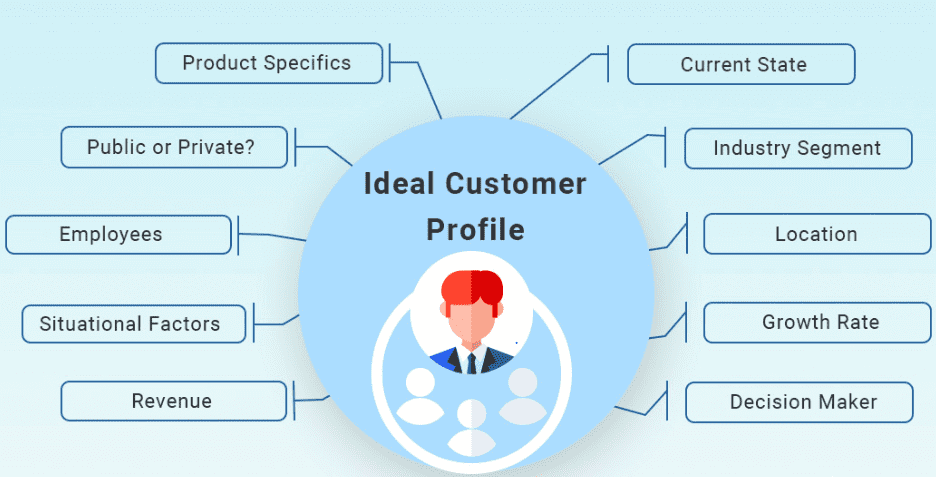 Source: The Smarketers
Building your Ideal Customer Profile (ICP) for ABM campaigns can help you make your business profitable as you have more profound insights on similar profiles you would be looking out for. You can source custom datasets from data providers like us by defining these very characteristics. By quickly applying these filters, you would be able to provision your most ideal datasets for your targeted ABM campaigns.
This helps you with a focused and targeted approach in reaching out to more similar accounts.
3. Building a Target Account List
Digging deep into your customer personas and creating Ideal Customers Profiles (ICP) would help you define the top 100 or top 200 customer accounts you will be successful with based on the data you already have. This way, you will be in a better position to chase them.
All the efforts you have put into understanding your existing customers will stand in good stead as you already know that you are bound to have fruitful engagements if they find out and learn more about what you got to offer them.
Leveraging customer insights you will be able to develop a crisp and concise list of accounts you can target as part of your account-based marketing strategy. In addition, you can be reaching out to the key decision-makers in the process.
4. Designing a Content Strategy based all the Customer Insights
When you have comprehensive insights about your customers and what clicks with them, there is no better way to engage with them with relevant content. Customer data can be your crucial leaver in crafting the most persuasive and effective content delivery strategies.
With clear and segmented data about your customers, you can craft a personalized go-to-market program that are sure to strike the right chords with customers aligned with your ABM campaigns.
Being armed with data with the correct segmentations can prove to be an actual arsenal for your campaigns. You can have a strategic narrative for your campaigns by aligning with carefully crafted content. Here you can communicate the value proposition that uniquely speaks about what sets you apart from the competition.
5. Nurturing your Account-Based Marketing (ABM) Campaign Efforts
ABM campaigns, like any other marketing campaign, require continuous follow-up. Like any other marketing activity, it is not a one-time fix. Be it marketing and sales activities or monitoring account engagement, there should be a concerted effort to align your actions with the larger plan of your content and go-to-market strategy on a day-to-day basis.
Reach out to your targeted accounts via account based social media, share a post, and engage with outbound email so that your targeted accounts can know more about what you do. Also, retargeting would be a great way to establish brand recall.
In Conclusion
At Span Global Services, we believe the secret sauce of successful ABM campaigns is being able to go after accounts by building insights into existing and prospective customer data.
It is about moving away from waiting for the leads to come your way and acting on them. An aggressive approach where you chart the course of your campaigns by going after your most desirable accounts is for sure going to boost your revenue.
Author - Debottam Dutta

Debottam Dutta, is the VP for Business Development at Span Global Services. A technology geek with deep industry knowledge, Debottam has championed the B2B data space and enabled double digit growth for global tech enterprises. His business models have inspired partners globally to embrace data-driven partnerships. Over the last eight years he has built a reputation for developing the best business strategies, incubating new business models and expanding partner channels world-wide.