The technology users list currently under your disposal serves as the readymade access port to your ideal buyer market. But even the chosen ones have their best picks. Connecting to prospects who connect with you is the basis on which each targeted user-group (install-base) is evaluated upon. High time for you to do the same, if you are not already.
We have enlisted a few markers, roadblocks and bypasses for boosting your technology user database by utilizing the most profitable asset in your arsenal – your list subjects.
7 Indicators Defining Strong & Healthy Growth of Your Technology Users List
Email share rates are on a high.
If email subscriptions are your lead generator, email shares are your lead multiplier. More shares mean more spontaneous reach. Greater share rates are self-validation for your campaign's relevance.
Subscribing recipients are mostly from the targeted segment.
Relevant email marketing starts with relevant audiences. While subscription is the ultimate word for leads, long-term relationships are defined with readers who connect to your products and business.
Over 20% of your subscribers want to renew their opt-ins.
A response rate anywhere on the higher side of 20% is great for any opt-in renewal campaign. Readers want to continue their readership with you. This is the time to cash in on the momentum and expand your target segment.
Strategically placed offer links are getting more clicks than other CTAs.
CTAs strategically placed at the top of the page or below the page content generally get results. But each website has its own signature. If CTAs placed at heat-mapped page locations are fetching good results, your website optimization is on track. This signifies growth of organic sales leads.
Your videos ("v-logs") are getting more views.
Viewers get uninterested with monotonous service videos after a point. Continued viewership and shares of your v-logs means your video content is doing its job and pulling in audience. 'Watch duration' is also another great measurement metric to judge the interest factor of your visual aids.
Your website pop-up subscription is getting more fill-ups.
Content blocking, ad phobia – whatever you call it – there is a general dislike for pop-up subscription forms. If it's working for a niche technology business website, then readers are actually interested to subscribe to you. Good news for your CRM!
QR Codes on your print materials are generating opt-ins.
This is the ultimate check point! Leveraging QR opt-in codes on print materials is a really niche marketing technique. Still, people are convinced to scan QR codes to opt-in to your technology customers contact list. Now, that's popularity!
The above pointers provide a wholesome view of your technology list's overall performance. You have to dig deeper to figure out the challenges of your particular target groups.
Challenges of Catering to Particular Sets of Technology Installation Data Audiences
B2B campaigns garner better results from targeted audience groups. Hyper-targeting can backfire for niche technology segments as their smaller peripheries confine them in a state of consistent dynamicity. Trend and market predictions can be farce under these circumstances.
A controlled fusion between buyer-persona analysis and database segregation can overcome the needs of laborious studies required before each campaign. This provides a generalized workflow to the whole process, and lets marketers decide and maintain a consistent, relevant path to reach their marketing and sales prospects with maximum impact.
The characteristics of a good campaign take effect with the right quantum of audience segmentation in technology marketing databases, also called 'install-bases'. Difference between the two (database vs. install-base) is that the latter is more focused (like a subset inside a superset of all databases), and created specifically to target niche technology sectors.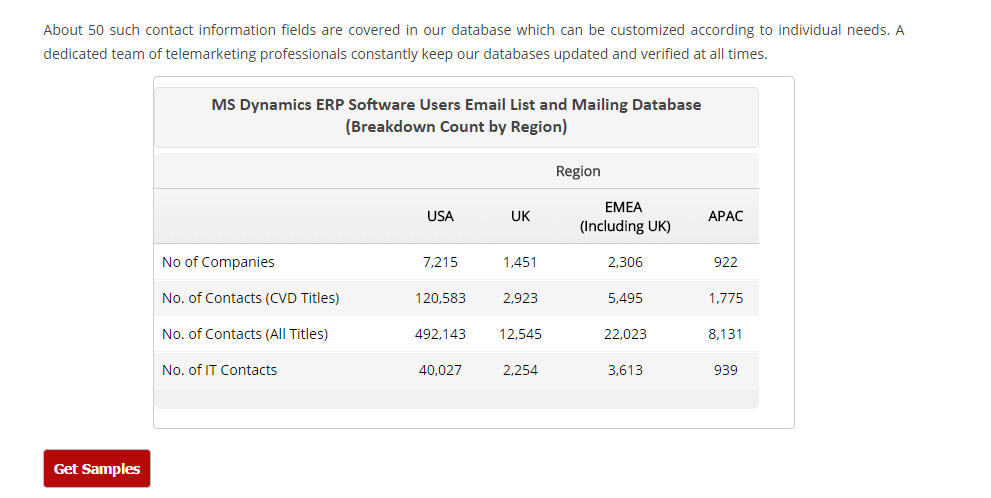 Buyer-journeys remain more or less the same for mainstream and niche technology purchasers. The change is in their expectations and understanding of value interests. This conflict is evident in all stages of the purchase cycle, and buyer-behaviors need to be closely monitored to realize specific demands imposed by the target group on a whole.
The challenge is to customize marketing install-bases to gather enough information about the target group, thus create one (or multiple) buyer persona(s) that match reader interests when focused campaigns are launched. Install-base corporate intelligence fields take up the important task of providing valuable inputs to predict decisive moves during different buying phases.
Buyer (-journey) Beware: Identifying Genuine Buyers in a Generic List of Technology Business Users
Taking the simplistic view, all tech-buying processes – whether mainstream or niche – start from the need, and consequent market research from the buyers. With the misplaced notion of exploiting a prospect's research process, most marketers make the mistake of adding more to the product's core information. But more information does not always imply necessary information.
The millennial generation (now comprising 61% of the purchase decision-making authority on technology purchases globally) are smart and understand the forced genuineness behind this approach.
The millennials though are thorough researchers, but prefer smart research maneuvers over rice-grain searching. For most, the total volume of their research rises from 2 to 5 collaterals at most, according to Eccolo's Media B2B Technology Content Survey Report for global tech purchases above $10,000.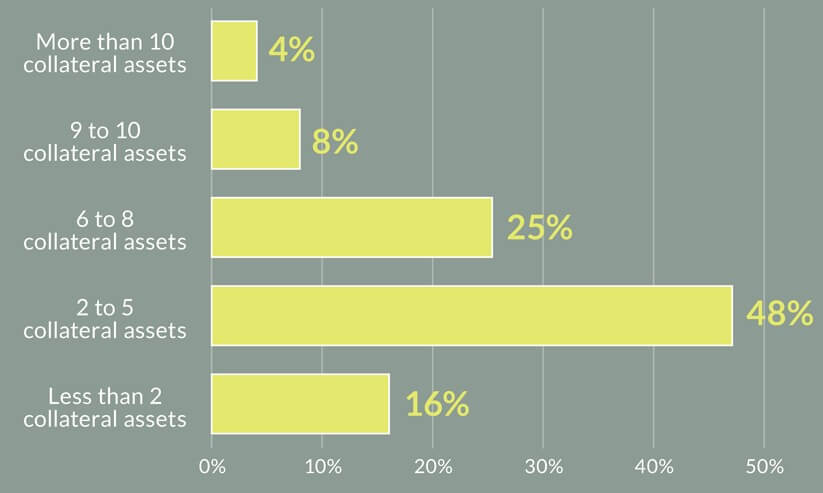 And this is the total volume of content searched for all competitive products. Keeping the high number of similar products available for each services, the statistics is brought down to a little over 1 complete collateral download from each competing brand. A marketer has just one chance to present their product/service during each of the stages.

What kind of buyers are you dealing with?
Mapping buyer journeys starts with understanding the buyer's needs – both by the marketer, and the buyers themselves.
To place a clear and solid expectation from their vendors, buyers must first have a clear idea about three things:
Their own company process
The purchasable brand
The brand's connection with the process
After deciding the product/service criteria, buyers starts their search. Once they are in the market, it is up to the marketer to make out what kind of needs the buyer is trying to fulfil, identify points of negotiation and deal-breakers, and then convince accordingly. Purchase needs can be classified broadly into five categories: business, financial, technical, risk-based and user-oriented.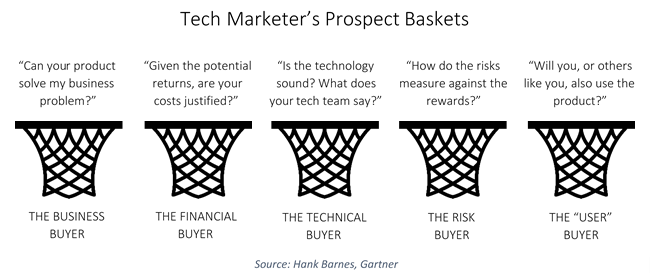 Though these categories are not exhaustive yet they cover a major portion of any tech buyer's queries. More importantly, these separate baskets help marketers to segment their marketing databases according to key customer requisites, create relevant buyer personas, and facilitate targeted campaigns.
Even with the best think-tank and real-time implementations, only 20% of your marketing efforts will actually fetch results. This humungous waste of marketing money has boggled top marketers from times immemorial. Judging the pulse of the market is not an easy job, neither is it pocket-friendly.
Cost-Cutting Advantages of a Readymade Technology User Lists
Capping marketing costs and optimizing marketing ROI has always been at the top of any marketer's priority list. Thereby, cost-effective innovations for businesses have made way and shaped the market of the future. A pre-packaged technology users contact list is one such asset.

A Pre-packaged Technology Marketing List…
Shortens the conversion cycle
Facilitates easy transition to automate email marketing
Enhances targeting by segmentation
Provides a fair knowledge about prospects, in a tried and tested manner
Eliminates internal infrastructure needs by a huge margin, reducing marketing costs
So, with an acquired business email list by your side, you don't have to start from scratch. Start giving undivided attention to things that matter.
Different Lists for Different People
By recent counts, email account numbers in the world have surpassed 4 billion. Taking the aged and infants out of the global population equation, this accounts for about 2.01 email accounts per person. With numerous industries, thousands of regional preferences, millions of niche clients – organizing all audiences under one segment is not a practical choice.
Unsegmented email lists make it hard to recognize the right people. This is especially a problem for big businesses who provide individual solutions.
Projected forecasts suggest, the number of business mails going out per day will hit 120 billion soon. That is more than 100 consumer mails per day to each of a single user's accounts. The competition for audience attention is steep.
Personalized content is logically more relevant to an individual than a generic promotion. With phenomenal rise in competition amongst similar industry players, segmented email lists become more of a necessity for analyzing the targets.
Optimizing Campaign Results with Technology Users Lists
A segmented email list takes care of separate targeting particulars of different campaigns and organizes campaign results when leads are finally collated into the CRM.
Proper list segmentation also facilitates relationship building between service providers and clients. Here's how:
Information Sharing Platform
By using a segmented list, sharing and dissemination of various topics of interests among clients can be facilitated. Internal community of clients can exchange ideas and help each other out with certain problems about related topics. Seeing this kind of relationship in the community will encourage non-subscribers to join, which means additional customers for the business.
People who feel a sense of belonging in one group tend to stay in that group for longer, if not forever. A targeted list with members of similar interest can bond better and pass on the enthusiasm amongst other subscribers.
Word-of-Mouth Credibility
One thing most of clients look forward to is great technical support for the products they buy. Lists segmented by discussion forum usage can facilitate authenticity about potent products and encourage other clients to share whatever insights and testimonials they have about them. Reviews, feedbacks and testimonials help other members inside the community to build a trust over a new product. Businesses are freed from hosting lengthy product promotion campaigns every time since existing feedbacks from purchasers would already vouch for the same.
Big organizations and enterprises find segmented lists most useful in terms of broadcasts. Announcements to different departments can be taken up and discussions can be conducted in online forums. This is especially helpful in promoting effective communication processes between internal business departments, and thus promotes efficiency among all of them.
Teams which need to regularly work on a certain project, can interact with each other online, while also working collaboratively to achieve better results. The best part is that they can do this independent of their locations. A database containing all such forum contacts at one place is thus helpful for coordination purposes.
Choosing the Right List Model from the Mix
List segmenting demands proper strategy. Know "Why I need this list?" or "What am I going to do with it?" before buying. As prior examples suggest, there are two main types of marketing techniques that businesses generally follow:
Where Recipients only Receive
Where Recipients can Interact
Where Recipients only Receive:
Lists made for these kinds of campaigns are also known as "one-way" lists, since it is only the list owner or authorized senders who can send messages, alerts and publications to the subscribers.
Is this for You?
Whether anyone is running a small business just taking root or heading a well-established firm, they would benefit well by using such lists to send important messages to present and/or would-be clients.
What to Communicate?
Newsletters
News alerts
Product announcements
Press releases
Promotional offers
Where Recipients can Interact
Exactly the opposite of a broadcast-based list, this kind of list allows both the list owner and the subscribers to send messages to each other on an individual basis.  As such, even subscribers will be able to interact with each other.
Is this for You?
Such lists not only build owner-client relationships, but nurture client-client relationships as well. This is very beneficial for enterprises who depend more on goodwill than numbers.'
Where to Communicate?
Online forums
Technical support forums
Interest groups
Social networking sites
This type of email lists also work best when trying to get feedbacks from clients, or working within a team in a collaboration project.
Leveraging Lists with Segment Optimization
A pre-packaged technology users list can help any tech business propel forward. It enables businesses to realize their aspirations for running a successful and thriving enterprise. The main advantage of using an acquired list is that you can use it to target prospects from diverse backgrounds and demographics, without breaking a sweat in list management.
Customize your list segments according to the company's marketing objectives and inform your database solutions provider about the same to achieve optimum campaign results.
So, how can this approach maximize the impact on your campaigns?
Beating the 5 Poorest Campaign Choices with Your Technology Users List
Readers vs. Subscribers
Amassing huge number of leads in your mailing database from standalone campaigns may prove great while crunching the numbers. Yet, qualifying and retaining them till the end of the conversion cycle requires much more than a catchy punchline.
According to one of Campaigner's research documents, marketers using "life-cycle campaigns" (strategic long-term engagement campaigns) are worthy of achieving 3-times more conversion rates than standalone campaigns. On the other hand, standalones have much higher rates of leads per campaign. So, what's the catch?
Understanding "Passive" Subscribers of Your Mailing Database
What happens when a "reader" doesn't like your mail?
60% recipients will delete it
27% will unsubscribe
23% will mark it as 'Spam'
So, in spite of an irrelevant pitch (too aggressive, too generic, or otherwise irrelevant), you will have about 60 people on an average in 100 who will just delete the mail, but will still remain subscribed to your mailing database. These are your "passive" subscribers, who repeatedly don't take any action on your mails, and turn into unsubscribes eventually.
Once active participants, your passive subscribers have lost their initial interest due to your irrelevant value-additions and disconnected content. Though with initial success, this is how marketers lose out on active prospects in the long run.
5 Campaigns Choices that You Wished to Re-take
For a marketer, "the right time, the right person, and the right pitch" is of essence in achieving ROI targets. Getting it right 'on time' will get people interested, and on your list. Here are 5 times when you couldn't retain them:
You chose money over time.
Time is money, but you chose revenue targets over it. You chose not to follow a timeline, and sent campaigns according to availability of resources. You failed to utilize the timely exposure in your recipients' inbox. People stopped expecting your mails because of your uncertain intervals.
You lost out on…
Seasonal (time-bound) campaigns
Creating your own campaign season and preparing for it
Counter-measures:
Your email marketing calendar is just not a value-add for your marketing prospects. Leading marketers maintain their campaign calendars for every quarter (if not for the whole year), to stay ahead in terms of content needs. Anything extra, would just have to be adjusted in the calendar and your marketing strategy will have a direction to build upon.
You chose global over local.
You thought all of your audience is globalized, and are aware of all updates across the globe. Your audience wanted to create an impact near their business base first. They didn't find your campaign useful.
You lost out on…
Harping on local favorites
Recent business opportunities specific to the region
Cultural reverberations in the pitch tone and design
Counter-measures:
Customer preferences change with the changing regional and socio-economic environment. Geo-targeted customer profiling (or Geo-targeted databases) can revive the regional relevancy barrier, and your campaigns can focus on the local advantage.
You chose the tie before the neck.
Your technology products/services were designed to suit the needs of a particular industry. By not segmenting the list by industries, your mail became a generic pitch and you missed out on the specific features that could have proved useful to the targeted industry.
You chose generic over the Generals of the organization. By not creating a proper buyer persona, you targeted the wrong people, ones who didn't have a decision-making authority in the company. They didn't find it their responsibility to share with the decision-makers, and your emails were ignored.
You lost out on…
Industry-specific promotions and offers
Role-based personalized campaigns
Counter-measures:
Personalized email campaigns come with being specifically useful to the reader. It starts from knowing their roles and responsibilities. 'Industry', and 'Job title' fields are important email append fields in your mailing database.
You chose short-term gains over long-term losses.
You didn't continue what you started. People got wary of your commitment, and started re-considering their decision to stay connected with you. Your campaigns lost out on content marketing's first law: long-term engagement. The purchase cycle was disrupted.
You lost out on…
Nurturing Campaigns
Legitimate conversions
Counter-measures:
While there will be special campaigns to target new users, there will be the old ones already sitting in your list, and require up-gradations in their respective buyer-journeys. A proper nurturing workflow, separately for "existing customers" and "existing leads", must be created and maintained.
You chose analog in a digital world.
The biggest mistake of all: you ignored the importance of real-time. Your marketing team didn't apply auto-response tools, or immediate response teams to reach the readers when they interacted through the mail. While you missed the opportunity, they kept looking for better alternatives on the net, and found your competitors.
You lost out on…
Real-time responses
Competitive edge
Counter-measures:
Starting from nurturing to service feedbacks, marketing automation is required in every step of the campaign process. Marketers prefer integrated tools that combine campaign, CRM, analytics, and service responses. Simple features like an auto-response feature in the automation tool are cost-effective but useful installations.

You can't send just any campaign to your subscribers. Remember, they are also your readers, and hopefully, your future customers too. Send a campaign which they value, and they will value you as an efficient marketer. It's a simple give-and-take.
Now you have a winning campaign plan and a proper list to execute it. But that doesn't mean your old technology lists have to be back-benched. A clear change of business perspective can rejuvenate your ageing or decayed lists and add impact to your marketing ROI.
5 Quick Answers to Update Your Old Technology Users List | Fighting Data Decay
Q1: How did you manage without it for so long?
Probably you got busy with…
STRATEGIZING marketing campaigns for new readers
EXPERIMENTING a new communication channel/platform
CHANGING your company/field/business altogether
The reason might be as simple as the list losing its relevance over time, and decaying to a point beyond any append and repair. Irrelevance is the key issue and the major cause behind the decay of corporate databases, which erodes by 25% every year. Lack of optimized contact usage lies in close second.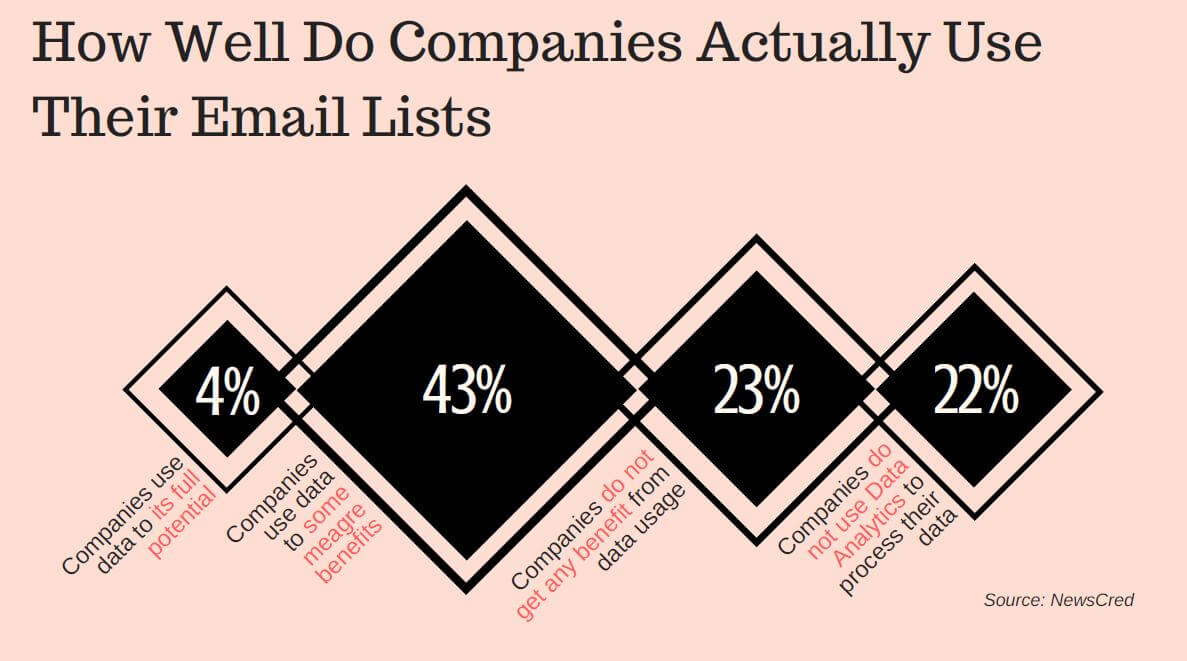 Q2: Why do you need the list now?
Your current surge of interest towards an old outdated list is, of course, for a cause. Starting the revival process requires understanding your need from the list at first. We have a list of situations that can act as triggers of interest.
3 Interest Triggers for Old Lists:
PRODUCTS
New Innovation in the segment
Cost Reduction of old products
Production Overflow
MARKET
Change in Rules & Regulations
Merger/Acquisition Scenario
Exemption in Taxes/Added Price-cuts
DEMAND
Surge in marketing campaigns
Expansion of customer segment
Increase of Product Relevance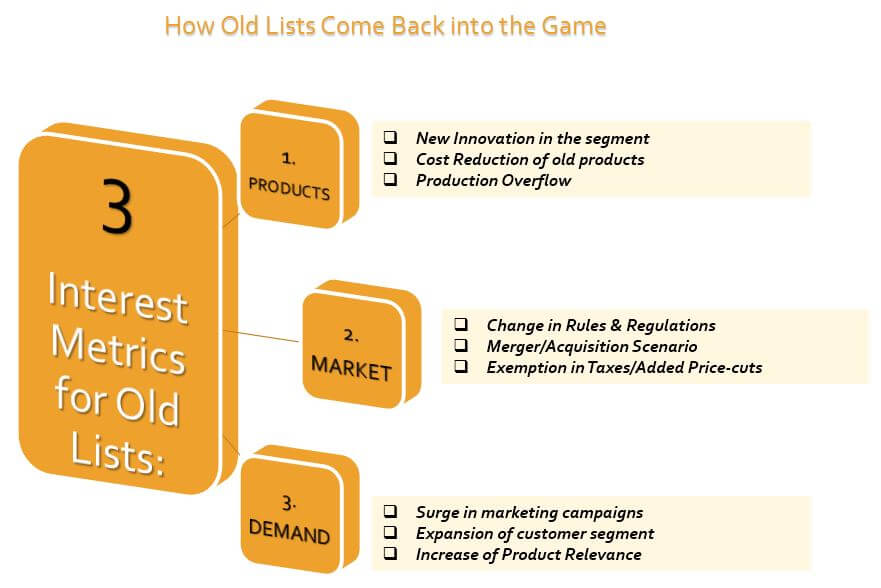 Q3: Are you still a relevant choice for your list subjects?
In other words: would you take yourself back, if given a chance?
Customer relations have a destined shelf-life. Ties established from your databases (even the best ones) cut off due to three basic reasons:
Poor Service
Changing Priorities
End of Mutual Needs
Apart from Poor Service, all other reasons are time-based and can corrected with gradual communication. A steady relevance factor can be achieved over time.
For lists discarded because of Poor Service, you know which doors NOT to knock!
Q4: What to do to revive your list?
SOLUTION 1: Start from Ground Zero
The names might be the same, but their preferences may have (mostly have) changed with time.
A thorough check on your list is essential to get the right information across.

SOLUTION 2: Start with an Email Append Campaign
Keep the tone warm, and formal.
Talk about the developments that has happened.
The campaign can be of a single mail, or preferably a chain of mails that breaks the information into installments. Gradual rapport building is key.
This way, recipients get enough time to catch up to recent developments. It builds trust without hurry, and opens future opportunities to stay in touch with the audience.
SOLUTION 3: New KYC for Your Old List Participants
The goal is to RECOGNIZE the living PERSONA of your long lost list.
Identify their new…
DEMOGRAPHIC
OCCUPATION
PAIN POINTS
GOALS (PROFESSIONAL & PERSONAL)
INFORMATION SOURCE
PURCHASE CRITERIA
PAST FEEDBACKS TO YOUR SERVICES
You can start with a casual catch-up questionnaire in your new engagement mailers. We have a template: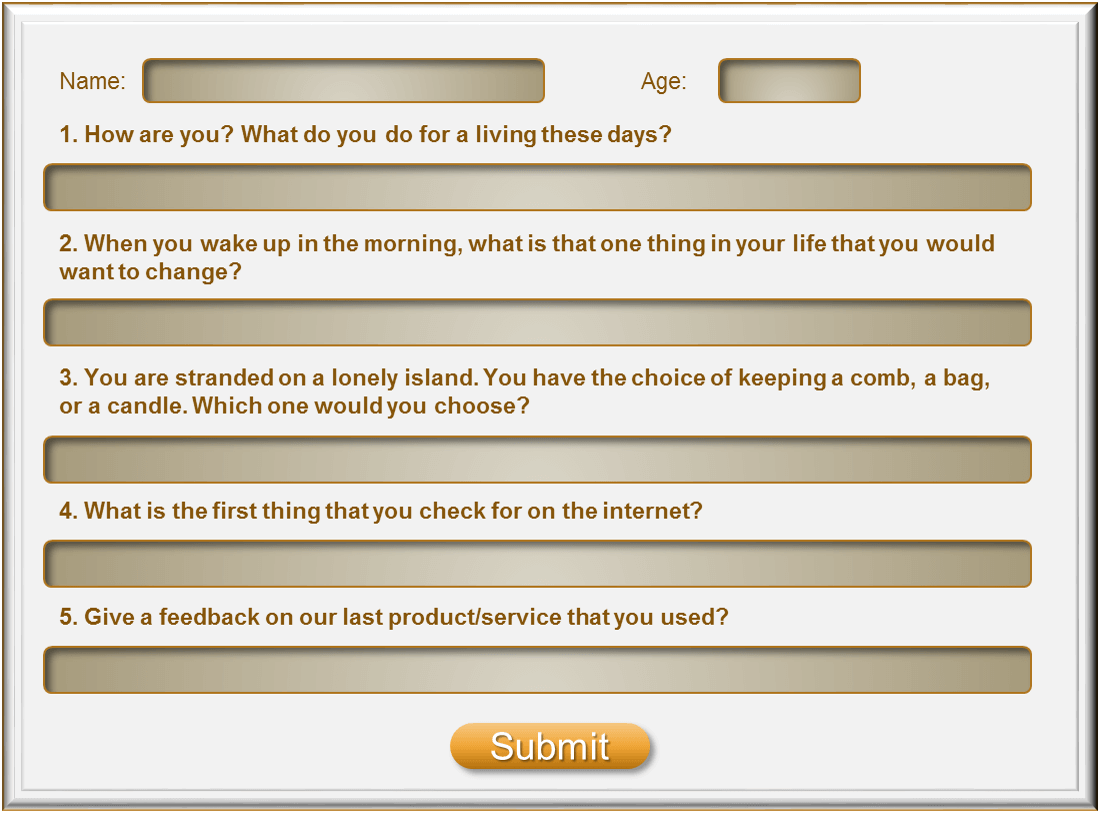 Try this after two-three mail interactions.
Q5: How to combine re-engagement into your marketing campaigns?
End the wait for your subscribers. Keeping an interested prospect waiting is an email marketing nightmare.
End the wait. Give something back. Here's how…
STEP 1: The First Mail
Keep Your Expectation Low
Apart from the fact that you have not contacted them for quite a while, 30% participants of any given list change their email addresses every year.
Don't Be Pushy
This is not a cold call, or a sales pitch. So, don't sound like one! Offers on your first mail is a strict no-no! Keep it to a normal greeting.
You need a Silver-Bullet Subject Line
It is better to presume that the subscriber has no memory of past interactions. The campaign would have to go on its own merit. 64% business mail recipients open the mails based only on the subject line.
Keep the Mobile-Friendly Feature
You don't know where they are, or what they are doing. Make your mail and landing page responsive. Over 80% of the people in the world check their mails in mobiles.
STEP 2: Post Contact
Time your 2nd mail accurately
You have (re-)engaged them. Good! Get the momentum going. Give them a valued resource (training material, documents) for free. Send the 2nd mail latest within a week of their response.
For non-responders, you can send the mail again after a two-week wait, but use a casual subject line, like "In case you missed this…" or something of the sort.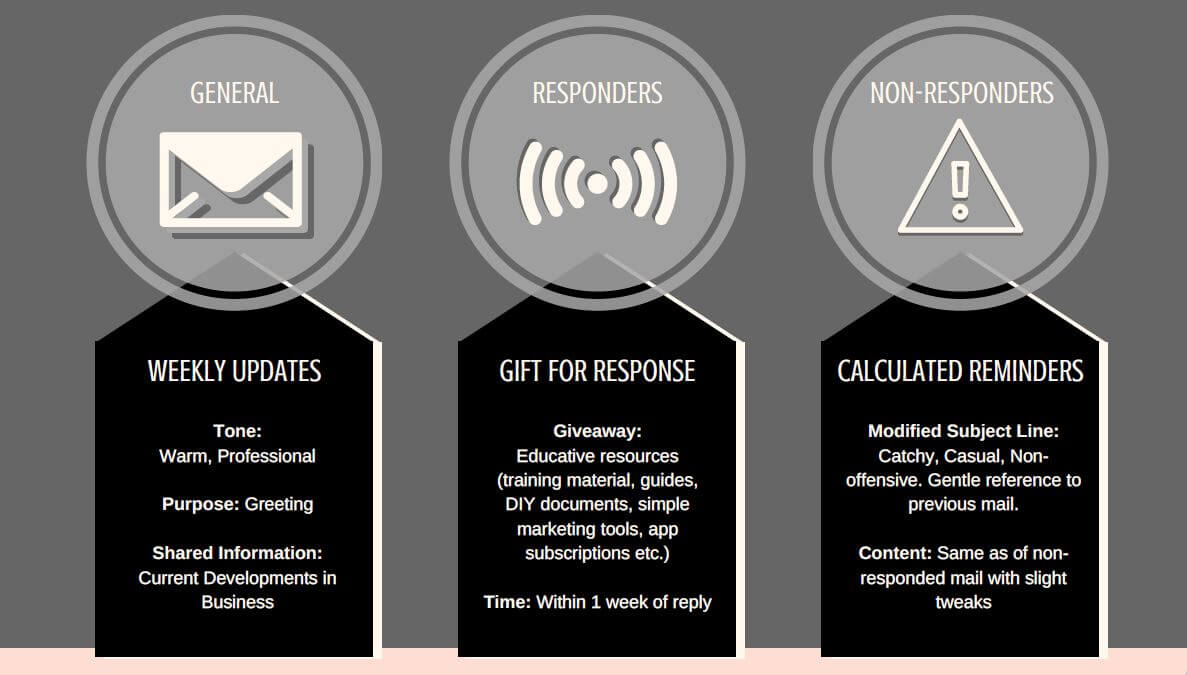 With the revival plan, you now have a new list to expand your target market, revived contacts to renew your old business ties and a proper multichannel marketing plan to reach out with your new tech!
Did we miss something? Contact Span Global Services' 24/7 available data team with your replies and suggestions. Great data consultation offers for first timers!
KNOW BEFORE OTHERS!

Author - Tenzin Geychok
Tenzin is an exceptional business development manager with strong planning and implementation capabilities. He's highly skilled at strategy execution with an in-depth understanding of the customers' requirements. He constantly develops newer ways to improve customer experience that boost & build brand loyalty. Tenzin is a people's person ensuring positive interactions and relationships with clients and team members giving more emphasis to value over business.