Lead generation can be difficult, time-consuming, and expensive; all of which contribute to an overall poor ROI. You don't have time to chase after every lead on your list, so you must establish a process for qualifying your B2B leads.
Qualifying leads is an essential aspect of good lead generation practice.
One of the important steps you must envision while trying to scale your sales is to make sure that you have sales development reps deployed to qualifying sales leads so that they can be later channelized to account executives to do the demo.
These representatives must be able to define what makes a qualified lead and must be able to lead account executives in the right direction.
With this said we bring to you some tried and tested ways to qualify your leads.
Incorporation of Funnel Filter for Top of the Funnel Prospecting
The preliminary focus before your start out with any kind of lead gen activity is to define your Ideal Customer Profile (ICP). With this being addressed your next initiative is to add filters in your funnel at the attract phase of the customer journey.
Adding filters at this stage would mean getting your prospect to fill out a submission form where the prospect's role, title, revenue, industry size, employee size, etc. are effectively captured. This would help you profile the contact and be able to take a call if the prospect is qualified enough to take your business communication forward or if it is worthwhile nurturing the lead.
An effective way of building funnel filters is to ensure that you capture the customer-centric information cited above by provisioning opt-ins for lead magnets, webinar registrations, or putting out a free trial sign-up of your product line, software suite, or service.
This would enable you to define lead qualification criteria for your leads based on the ICP.
Identifying the Behavioral Attributes
We are living in a day and age where it is possible to precisely track customer's interactions on your website. When a prospect becomes an opportunity worth considering you can get into their history and patterns of engagement with your brand or product line and the beauty is that there are so many tools that help you achieve this objective.
Monitoring the interactions including page visits – such as your about page, pricing page, and behavior exhibited on your website before actually signing up for a trial or downloading a lead magnet is a great place to start qualifying a lead. Then you can eventually do lead scoring on various parameters.
The blogs that interested them, give you valuable insights as to whether they have enough information about your business and enable you to gauge if you have a common ground to build a connection.
Understanding if the Challenges can be Mitigated within The Window of Opportunity
It is important to get information as to what are the challenges posed by your prospects upfront and identifying what you can do to serve them as an ideal partner in mitigating their challenges. This also calls for identifying how immediate is your prospects' requirement to solve their problem.
Here are some stats on challenges faced by sales reps based on % of respondents.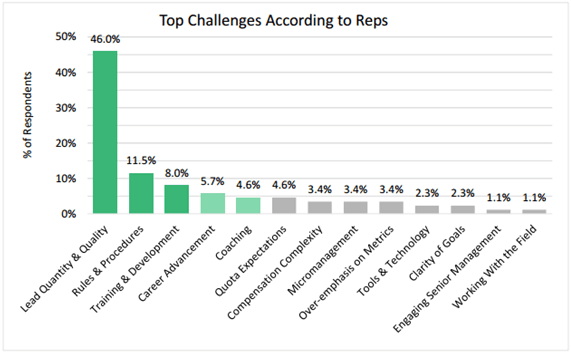 Source: Salesflare
The important aspect to mitigate challenges is that you must qualify a lead by deep diving into the client's needs and assessing if you will be able to provide a solution within a time frame.
It is good to note that the window of opportunity is very small you must be able to serve your prospects within stipulated timelines. If not it may be the case where your prospects' priorities have changed with time and they in most cases have moved on in their pursuit for seeking a solution for their problem.
Role and Authority your Prospect Enjoys
It becomes very essential to qualify your leads based on the role and authority of your prospects. As we go higher up the hierarchy their ability to make buying decisions increases and this becomes a good criterion for qualifying leads.
Getting to know your prospects more deeply, and probing the kind of decisions made in the past – be it technology adoption, software's purchased in the last six months, the budget spends allocations, past buying decisions that are in line with the current formats of engagement help you understand if it worth the effort to qualify and pursue the lead for the next couple of months.
It also need not be the case where you need decision maker contacts to qualify the economic buyer. It is more than sufficient if they have the authority to make the purchase.
It all boils down if they can purchase a proof of concept if not the enterprise rollout of the product suite, which eventually helps to move the sale forward for bigger tickets.
In Conclusion
At the end of the day, it is all about solving problems, and qualifying a lead is about identifying and asking yourself "does my solution solve those problems?". And most importantly how well does your product, solution, or service fit in to align with your prospects' challenges.
It has never been more important to connect with the right prospect while putting forth your sales pitch and this is going to be a stepping stone for other marketers to build competency and strategy into the business.
The lead qualification strategies are implemented as discussed is bound to pave the way for big-ticket wins!
Author - Mukundan A P

With having spent over 18 years with the Champions group leading the APAC territories in the data domain, Mukundan has a reputation of helming some of the most formidable projects in the B2B sector. He is known for his ability to build relationships and make headway for his clients using his expertise in data driven solutions. Having worn a plethora of caps in his vast career he is not an individual of singular talents. Mukundans ability to handle multiple roles and his immense success makes him one of the finest leaders that this industry has seen.