Halloween is a magical time of a year! You can experience a sense of spine-chilling fun as you explore the spookiest corners of your neighborhood and enjoy favorite Halloween traditions — from carving gourds to trick-or-treating with friends.
Email marketing is a great way to capitalize on this festive spirit to reach potential customers and see what they're interested in. It's also a good way to promote discounts or new products! To bolster your holiday sales, you can change your email template to be more of a Halloween-appropriate design.
Halloween is a time for costume parties, trick-or-treating, and frighteningly spooky decorations. This is also the time when sales see a significant spike.
Google trends reveal how Halloween is more popular than Christmas. It is good to note that there is a staggering 55% more searches for Halloween. This can directly be connoted to the marketing opportunities!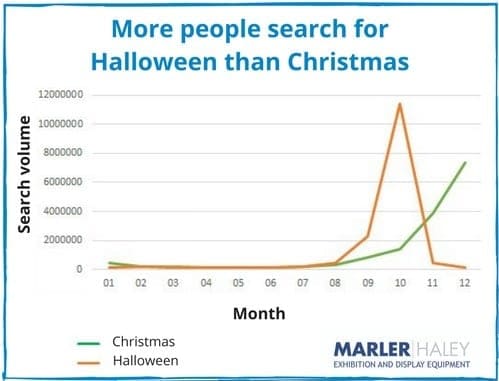 Source: Marler Haley
Let's take a plunge into the details of how Halloween and email marketing can go hand in hand to build a strategy focused around it.
1. Setting up A Calendar for Halloween Email Campaigns
Halloween falls on the 31st of October; it is not just about driving conversations and engagement just for that day. It would be best if you could craft a series of Halloween-themed email campaigns that get sent out the entire month that makes the best use of the festive spirit and excitement on all the days before Halloween.
This way, you give ample time for your audience to act on the campaigns, resulting in better campaign outcomes. Setting up your email marketing calendar in this format to tap into the mood days before Halloween is celebrated can be the right start.
2. Coming up with a Halloween Themed Email Design
Many email marketing tools like Mailchimp can help you with custom-built Halloween email templates and themes with the most appropriate design elements.
You bring the right amount of spookiness in the campaigns by incorporating GIFs, graphics, videos and visuals that blend well the prospects buying psychology and purchase intent during this period.
It is observed simple templates that are more visual with less written material with a minimalistic approach is bound to click with the audience and create the right amount of enthusiasm and frenzy for the product you intend to market.
A well-balanced color scheme with CTA's that stands out is bound to create the right impact and create more clicks.
Also, making your campaign destinations and landing pages themed around Halloween amplifies the user experience to a great extent and adds to the fun quotient.
3. Bringing the Halloween Element in the Email Subject Lines
A good Halloween email subject line is the defining factor that determines if the email captures the reader's imagination and results in the email being clicked or opened. In essence, it determines the overall performance of your campaigns.
To get the desired open rates, you must gauge the pulse of your audience and craft thoughtful subject lines.
Creating puns infused subject lines around big deals that can be cracked, spectacular outcomes that can be achieved, saving opportunities, and fascinating offers that can sync well with the spirit of Halloween – can be a great place to start.
Headlines that can make the reader smile is bound to convert and close more deals!
4. Finding an Opportune Moment to Propose Halloween Discounts
Prospects are typically on a buying spree during Halloween and the best way to capitalize on this opportune moment is to offer discounts.
Consider giving away your products, solutions and add-on services for better bargains and steal deals. There is no better way than communicating it than with your emails and Halloween newsletters ideas.
By promising giveaways and discounts, you can keep your prospects excited about subsequent purchases with your brand.
5. Make Halloween Campaigns Tailored to Specific Customer Segments
You might be wondering why you should bother about segmentation; after all, Halloween is just one day out of 365 days in a year.
It's October, and you know what that means: time to let your creativity fly on Halloween email campaigns for B2B marketing. Pitch your imaginary friends in the creepiest possible voice to scare away their competitors. And don't worry – these spooky Halloween emails are easy enough for even the most inexperienced B2B marketer to compose.
Ultimately, a good prospect and persona segmentation can help you make the right outreach with the apt context-setting and tone and voice that resonates well with your target audience.
Also, with segmentation, you can time and schedule the campaigns more effectively based on audience preferences.
6. Building a Sense of Urgency and Scarcity
A sense of urgency in your email marketing can help increase conversions by up to 200%. Therefore, you must create a sense of urgency with your email recipients by getting them in the mood for your product or service ahead of time by giving them more information than they need.
Also, by creating scarcity by saying that this opportunity, discount or deal will only last until Halloween ends by including count down timers; ensures that you create a conducive atmosphere for closing deals and surging ahead with big-ticket wins.
In Conclusion
In addition to the strategies cited above, you could integrate user-generated content in your spooky and scary emails and drive social proof and engagement. Moreover, email marketing automation tools can be a bang for your buck when leveraged effectively.
Also, there is no better way to connect with existing customers with Halloween-themed loyalty programs.
October is here, and there is no better time to strategize Halloween Email Marketing by applying the ROI-focused initiatives discussed above. So get a head start today!
Author - Debottam Dutta

Debottam Dutta, is the VP for Business Development at Span Global Services. A technology geek with deep industry knowledge, Debottam has championed the B2B data space and enabled double digit growth for global tech enterprises. His business models have inspired partners globally to embrace data-driven partnerships. Over the last eight years he has built a reputation for developing the best business strategies, incubating new business models and expanding partner channels world-wide.