Social Media has gained momentum over the past few years. There are some good corporate social media accounts out there. Oreo makes the most out of the current events by making cute ads based on them. But there are at least as many fails happening in the marketing social sphere as wins and the fails are often epic. A common element to all of these mishaps is that the social media team was not listening. Listening does not mean talking to customers; it means being aware of the company's place in Internet's culture. The team should also understand that customers do not appreciate mass-production. Let us discuss some common social media mistakes and their amends.
The Rights & the Wrongs
Only selling your "stuff"
–
Problem – You communicate the 'buy' words incessantly and do not concentrate on building any rapport with the prospect.
Solution – Introduce your company; let the consumer find out the services/products you offer. Create the demand during the conversation. That's one happy consumer there!
You talk all the time –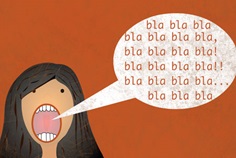 Problem – Your campaigns are completely ignorant of the consumers' point of view. You believe your campaigns should do all the talking at people and not with them.
Solution – Don't just believe in broadcasting your message across. Encourage having two way conversations in the form of threads and quick responses to queries posted.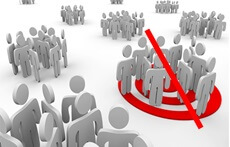 Wrong Target Audience –
Problem – Lack of a social media strategy. You choose to communicate with anyone who chooses to talk to you. One of the most common social media mistake we commit.
Solution – Predetermine your target audience and also research the platform that your desired consumers use. While outsourcing your social media strategy ensure to check the relevant experience of the agency you choose.
A schedule without frequencies –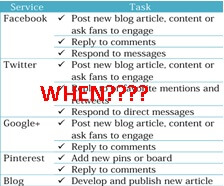 Problem – You know which platforms to target, you know the methods that you would adopt, but you don't really know when you should do it. So, you just do it whenever you feel like, randomly!
Solution – Plan your social media calendar to the smallest detail. Maintain a preset frequency for the entire social media options available, according to your digital marketing strategy. Design a metrics for measurement of effectiveness of your campaigns.
Social media killing your image? –
Problem – Using a lot of #tags, Tweeting the whole of 140 characters without the possibility of a complete retweet, lack of differentiation between the message on FB, Twitter, Pinterest, Instagram etc.
Solution – Categorize your social media messages as per the social media site you intend to post on. You should be aware of the limitations and permissions on every platform to make sure that your messages are compliant.
To summarize, there could be many more issues with the implementation of your social media strategy. It is important for every company to have a policy and schedule in place. To reemphasize most of these issues are a regular feature in any organization, but the aspect of foreseeing the problem and fixing it proactively is a challenge. In a Forrester conducted research it was concluded that around 41% of social media users choose online methods to find out about new products, services or brands. The impact of the brand image through social media is definitely strong. With the numbers certainly seeing an upward trend, it becomes imperative for us to ensure that we use social media to our advantage.
Author - Tenzin Geychok
Tenzin is an exceptional business development manager with strong planning and implementation capabilities. He's highly skilled at strategy execution with an in-depth understanding of the customers' requirements. He constantly develops newer ways to improve customer experience that boost & build brand loyalty. Tenzin is a people's person ensuring positive interactions and relationships with clients and team members giving more emphasis to value over business.