How can the social space promise sales? Can a brand interact with a consumer? With the digital expanse, it is possible. The conversation or in the social lingo, the threads promise much more value than just purchase. The lifetime value of a consumer is much higher with social media engagement tools like FB, Twitter, Google+, Pinterest, Stumble etc.
Wildfire, the part of the Google family that focuses on helping companies manage their activity across all social networks joined hands with Forrester Consulting to study the relationship between social engagement and buying behaviour. This study revealed that people who associated with a brand on social media on a regular basis made twice as many purchases from that brand than someone who does it only once in a month. Now most companies follow metrics for assessment of period and frequency of engagement of their consumers on social media. Out of all these as illustrated engagement is the key metric for social media.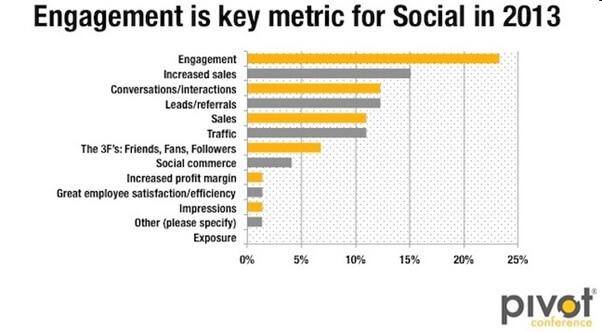 Social Media Engagement and Brand building
Also, many of the other metrics stated in the graph above are a result of the consumer engagement over time. With social media engagement tools, many of your brands can achieve brand advocates in the form of consumers, which is a strong influencer for building your brand image.  Although search engines dominate the research of brands and products done by consumers, social networks are not far behind. 37% of internet users use social media for brand engagement while over 40% do it on search engines. Social networks go hand in hand with product websites in advocating the brand and creating awareness.
When you focus on social media engagement, at every instance, you'll convert your prospects into your most loyal customers that don't just buy your products again and again, but the word of mouth also works for you. As social media platforms finally reach search engines and websites as a first point of call for brand discovery and information, it's clear consumers want to engage — and brands must respond.
Author - Sujith Kumar
Chief Sales Officer, is a highly skilled orator with a keen interest in campaign management, survey development, business intelligence and social media management. Steve has a special interest in personal branding and strongly believes that the key to success is to keep trying.