Connecting the 3 golden dots of data verification: Focus on email services.
Your ability to deliver results is dependent on everything connected to data verification and its accuracy. This post focuses on the golden mean for its services and why you need to pay close attention to it for enhanced email marketing.
We help you to compare services and chose the best data verification company. We also provide the ground realities for analysis and how data screening works as a methodical process. It also goes beyond the customary 3 steps which include email syntax, domain validation and SMPT protocol.
Key takeaways:
1. Cost of wrong addresses.
2. Optimizing verification with better tools.
3. Easy lead generation.
4. Trust only enterprise grade verification companies.
The focus on email services: Deliverability counts.
There are no ways marketers can skip emails. It continues as an integral part of a strategy mix for businesses across the globe. Deliverability counts the most despite the spam filter, ISP and issues like messages being reported in junk and supplementary folders. Even this year nearly 65% of companies found strategic messages for targeted audiences fall in spam folders. This places a hefty premium on data verification which leads to such anomalies. It has increased the need for service providers that lend a hand in deliverables. The fact that your business could be blacklisted is scary and more tangible. Hence, the need for the data verification company is important. To explain further the cost of wrong addresses, the financial expense could be huge. Perhaps you have already lost more dollars on comprising the data quality. An invoice may have turned into a bad debt and revenues reached the red mark and even a few prospects have vanished.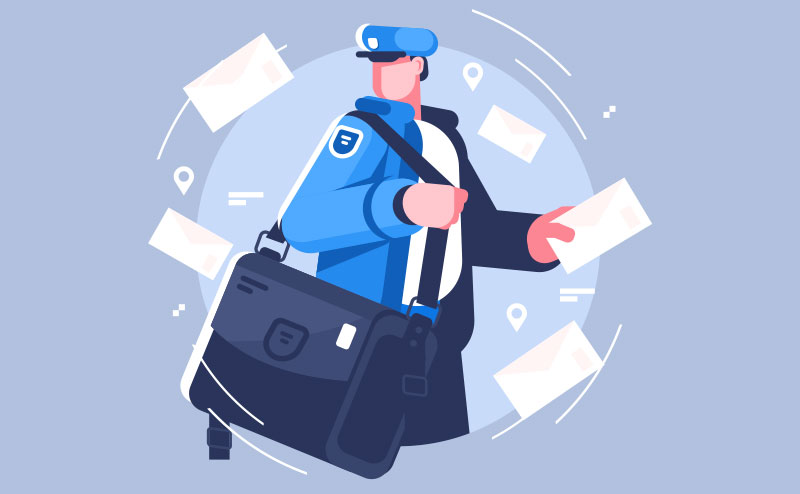 Separate wheat from chaff: Choose service providers with diverse verification processes.
Various measuring techniques are used for data screening of legitimate email addresses. A few companies have propriety algorithms are used for 100 % validation. Care is exercised to dispose of the invalid subscribers to give a clean email list. This can then be used for business development for specific marketing campaigns. A reputable service provider will optimize with valid tools.
There are 7 steps to email verification: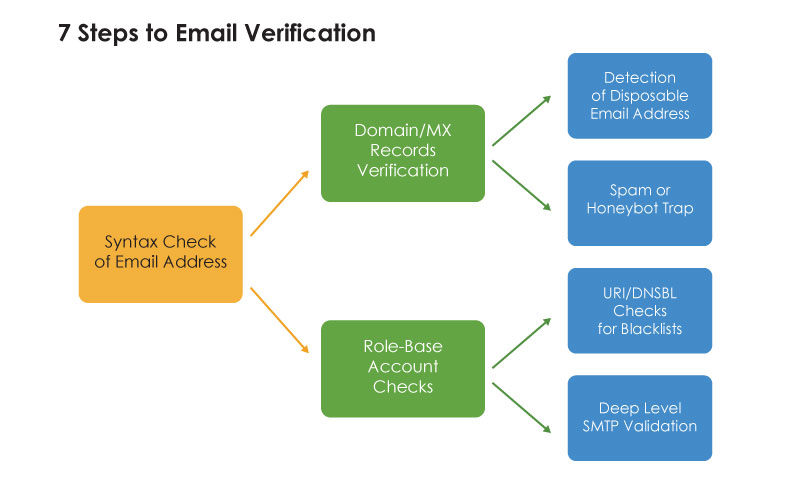 Easy lead generation: Depends on ideal services.
A customer information can be tapped by a data verification company with a confidant score on the necessary parameters. They connect to the 3 golden dots to deliver net results. The name of the customer is matched with the telephone number, email and postal address. The IP location is a critical indicator that is the hallmark of data screening activity. The risk factor increases if the physical address is unique from the IP address. A customer may avoid a pesky marketing email and a telephone number in another part of the world. An ideal vendor will consider this as a red flag and check for the authenticity of the details provided. A more isolated detection will prove useful if the connection is a dial-up rather than a direct call. All these practical actions will build up the easy lead generation.
To arrive at the golden mean for the accurate customer information the following 3 dots can be timely connected: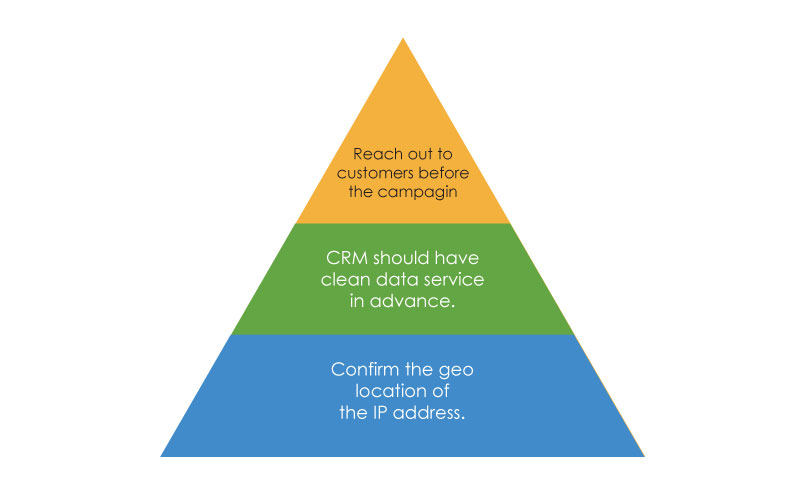 Trust only enterprise grade vendors: The final key to validation.
Let's just enumerate the qualities in bullet points for easy reading. A data verify vendor should be capable of linking the above golden dots with the following:
1. Provide an app for bounce rates, IP email verification depending on demographics.
2. GDR complaint and provides at least 98% accuracy with one – two hours' turnaround time.
3. An AI scoring system is a good lead and proof of the services.
4. Provide packages for bulk verification and single email address with credits.
5. API for bulk email verification in real time.
6. File formats (.cvs or .txt) accepted for data screening.
7. Encrypted file sharing after screening is done. Presentation of the report in PDF.
8. Some enterprises require customized deliverables.
9. Deletion of duplicate details, grey list and detection of false emails.
10. Spam trap removal is essential.
We have already created the key takeaways associated with this post. Have we missed anything else that could increase customer engagement via valid inbox?
Gist:
You've got emails bouncing and leaping. Why not follow some golden rules to get a genuine email list? Bounce back into action with data verification.
Author - Debottam Dutta

Debottam Dutta, is the VP for Business Development at Span Global Services. A technology geek with deep industry knowledge, Debottam has championed the B2B data space and enabled double digit growth for global tech enterprises. His business models have inspired partners globally to embrace data-driven partnerships. Over the last eight years he has built a reputation for developing the best business strategies, incubating new business models and expanding partner channels world-wide.