At the beginning of the year, things looked peachy for the marketing sector. A significant increase in the proliferation of technology was expected, and analysts predicted a bright future for digital ad spends. Similarly, with significant events like the Tokyo Summer Olympics and the US elections looming, offline ad expenditure was also expected to grow. Emarketer, in one survey, concluded that the total global ad spends were expected to rise by 7.4% compared to last year.
By the time February approached; however, a tumultuous health disaster in the form of COVID-19 disrupted these predictions. Businesses have been struggling to make changes to their spending models, and cope with the disastrous economic impact that is associated with and will follow this pandemic. In response to the ever-changing consumer and B2B habits due to the coronavirus, e-marketer also lowered their growth projections by 3%.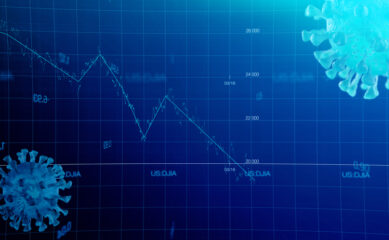 Due to the outbreak, major brands have become cash strapped and are reducing amounts spent on ads. Roughly $600 billion of ad money has been pulled back as photo shoots, commercials, email campaigns, digital campaigns, and telemarketing campaigns get canceled. Additionally, the New York Times also reduced its Q1 digital marketing forecast by 10%, as the newspaper started receiving fewer ad gigs.
However, even as a global economic decline is in process, analysts have predicted reallocation of ad spending that has been halted now. Meaning, as the year progresses, and the outbreak is controlled, marketers are expected to resume campaigns and make them more focused.
How Will Big Data Help?
Since organizations like WARC still expect a 13.2% growth in internet spends for 2021, not all hope is lost for the digital marketing world. There has to be, however, a shift in how marketers approach new campaigns.
A possibility of reduced marketing budgets exists even for multinational giants. This means that any reckless acts, such as wasted email campaigns, non-targeted messages, inefficient usage of artificial intelligence, and inadequate monitoring of a campaign have to be curbed. The only way brands can do that is by investing in good quality big data.
Despite the recent slowdown in marketing, data will continue to grow exponentially, while data trends will change dramatically throughout the year. Never before in the internet's history have such a large amount of people stayed home collectively. Purchases are meant to happen, if not now, then when the world reopens, and as soon as it does, there will be intense competition to gain customer attention. Now is the correct time to make your marketing strategy is future proof and strong enough to compete.
Investing in good quality big-data can help you improve your marketing campaigns so that it reaches only the people most likely to convert. This will significantly cut down wastage of funds as your organization grapples with an economic slowdown.
If you had already designed a marketing plan but were unable to launch it amid the coronavirus outbreak, you can revise it to meet the standards suggested by the latest dataset. Developing a quality campaign is easier than ever with big data, and keeping an updated record of your targeted customer base's shopping or investment behavior will only improve your overall marketing strategy.
Also, invest in revised contact data and spend time enriching your existing datasets. Moreover, study the datasets you already have purchased to see conversion trends and gauge what your leads like the most about your campaign. Have a multi-channel optimized data-driven mentality to gain the most out of your marketing strategy.
Since positive projections remain in place for the digital marketing sector, increasing your investment in good quality data will only strengthen you in the latter part of the year, and help you tackle the economic slowdown by ensuring maximally beneficial ad spending. Remember, data-driven marketing is intensely organized and systematic, and the only thing the economy will need after these rocky months is some semblance of order and organization.
Author - Mukundan A P

With having spent over 18 years with the Champions group leading the APAC territories in the data domain, Mukundan has a reputation of helming some of the most formidable projects in the B2B sector. He is known for his ability to build relationships and make headway for his clients using his expertise in data driven solutions. Having worn a plethora of caps in his vast career he is not an individual of singular talents. Mukundans ability to handle multiple roles and his immense success makes him one of the finest leaders that this industry has seen.