Are you finding little or no success with your email marketing efforts? Are your open rates dismally low, with even lesser click-through rates and zero conversions? And the worst part, is this botch up becoming recurrent with the graph of success dipping continuously downwards? If yes, then you must, certainly, be harboring certain email marketing misconceptions that we reckon you must immediately get rid of.
Look at the following list of 6 email marketing misconceptions and determine the ones aligning with your strategy, and forsake them at once.
1. Welcome emails are not so important
How would you feel if, suppose, you go for a business meeting and your client without any salutation, or even asking you to sit down, starts with the discussion on the main issue? You'll not only be dumbfounded at the absurdity but also feel bit offended. Same is the case with subscribers who are not sent welcome emails.
While browsing your website, a new subscriber discovered the significance of the content offered in your email newsletters and decided to sign up. You're making a massive error if you plan to send them regular newsletters right after they sign up without sending the welcome email.
Welcome emails have the greatest open rates of all marketing emails and provide a fantastic opportunity to interact with your consumers. Welcome emails earn 320% more money than ordinary marketing emails. Furthermore, these emails have a staggering 196% click rate and 336% transaction rate.
Take a look at an example of welcome email from Virgin America: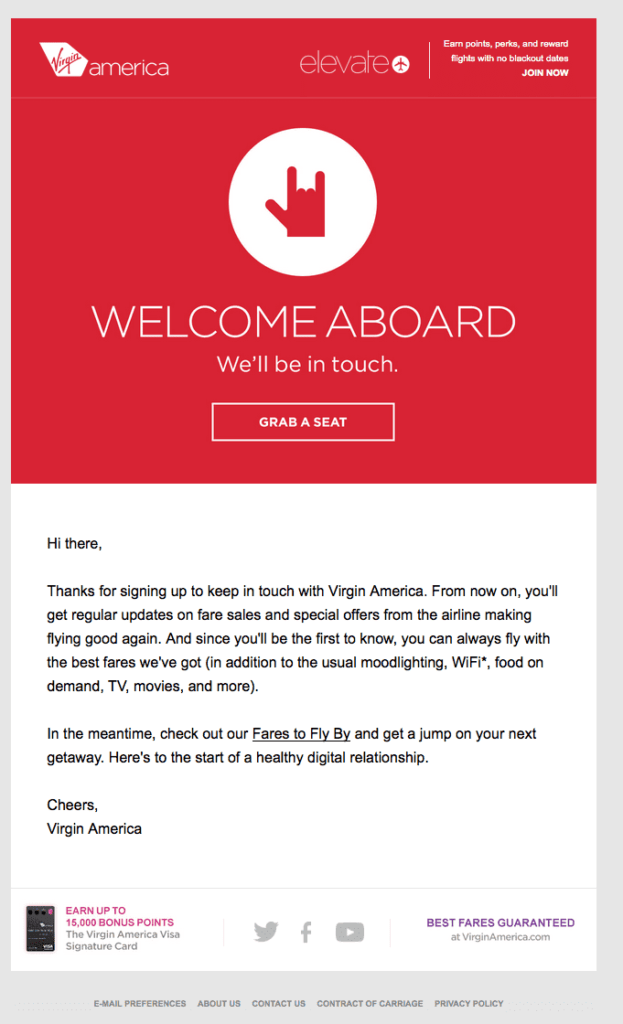 Source: HubSpot
2. Segmenting your subscribers is not worth it
Many marketers make the error of sending a single email to all of their subscribers. Customers, on the other hand, have distinct wants and are unlikely to respond to the same messaging. It is, therefore, better to focus on diverse client groups depending on their interests, purchasing habits, and behavioral patterns. You can also send different content to different subscribers based on demographics, firmographics, and technographics.
3. Tracking your campaigns is a waste of time and effort
Marketers who don't keep track of their outcomes are missing out on opportunities to learn more about their customers. Businesses can use these metrics to figure out which messages and promotions are converting the best and which ones are failing to attract subscribers' attention. They can then customize future marketing efforts, as well as their product and service offers, based on this information.
4. Email bombardment has a positive impact
According to studies, the average person receives roughly 120 emails every day. When you double this quantity by 365, you get 43,800 emails every year.
These numbers give an indication as to why subscribers finally unsubscribe from email newsletters. It's simply because they're getting too many emails and are being forced to hit the unsubscribe button and have a peaceful life.
5. There is only a slight difference between responsive and non-responsive email templates
Honestly speaking, if you still suffer from this misconception in 2022, your case is quite critical. The percentage of emails opened on smartphones, tablets, and smartwatches is way higher than in desktops/laptops.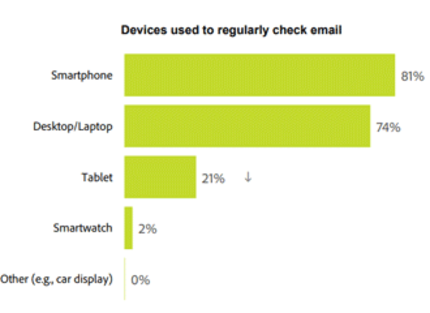 Source: Email Monday
To avoid certain fiasco, you should use a fixed responsive layout, a fluid responsive layout, or a combination of the two. The optimum format for your email can change from campaign to campaign, but with responsive templates, you can save both time and effort.
6. Unsubscriber Rate will be less by keeping the unsubscriber link or button obscured
You should seek to limit unsubscribes to a bare minimum, but this goal should be achieved through your marketing strategy, not by stooping low to hide the unsubscribe button from the scene. Your email is more likely to be identified as spam if you don't provide a clear unsubscribe button, which could harm your reputation and reduce your chances of continuing your email campaign.
Therefore, include a clear unsubscribe button at the bottom of the email to avoid any unwelcome outcome.
Bonus Tip: Visuals must have the lion's share in your emails
Images may provide some uniformity in the display of your email, but in today's multi-device world of instant gratification, image-heavy campaigns aren't realistic. Because the likelihood of such an email ending up in the spam folder is quite high. Also, some major email clients are unable to view large images. And on mobile devices, a lot of time and data is consumed in loading heavy images. In case of images-only emails, there is no way to use the pre-header preview text.
Always remember that the email's core content should be contained within the text, no matter how ambitious you are in producing visually appealing emails. Sending too many images in a single email is never a smart idea.
It is, therefore, advisable to choose a ratio of 60% text to 40% image, at the max.
Summing it up
Email marketing, without a doubt, is one of the most popular and effective marketing methods. Unfortunately, there are misconceptions galore in the minds of the majority of marketers. Although these misconceptions are very simple to correct, identifying them is most difficult.
In this article, therefore, we have tried to uncover most of the common misconceptions and how to eliminate them, thus, enabling you to enhance your marketing effort and boost revenue.
Author - Tenzin Geychok
Tenzin is an exceptional business development manager with strong planning and implementation capabilities. He's highly skilled at strategy execution with an in-depth understanding of the customers' requirements. He constantly develops newer ways to improve customer experience that boost & build brand loyalty. Tenzin is a people's person ensuring positive interactions and relationships with clients and team members giving more emphasis to value over business.