Big data insights to transform B2B lead generation-Data driven marketing
The discipline of lead generation has primarily changed. Telemarketing has grown as an efficient channel in identifying sales read prospects, branching from the traditional B2B marketing efforts towards branding and awareness. But now that prospects typically have access to all the product and solution information they need, things are different.
Actually, the growth of your organization is dependent on clean, error-free, reliable business database. This data is nothing but the most valuable information about your prospects. Right data is needed for any kind of effective analysis. In a customer driven scenario, it is vital for you to know your buyer to the deepest level, so that more prospects become leads.
What is your buyer's journey?
Sometimes qualified leads are a source of inter-departmental frustration. Where marketing teams may qualify a visitor as lead upon receipt of an email address, sales teams will require more thorough scrutiny of these leads before sales contact is initiated.
It is important to share information related to the buyer journey across departments. For sales and marketing teams, it is vital to understand the buyer journey. Therefore related documents need to be shared across departments. Sharing crucial definitions will make it easy to identify clear hand-over points. Both departments will be able to determine a prospect's position within the sales funnel; identify the next step of lead nurturing; and assign ownership of a lead to the relevant team.
Many B2B businesses are starting to remedy this problem by adopting Inbound Marketing strategies. They acknowledge the difference between marketing-qualified leads (MQLs) and sales-qualified leads (SQLs). You need to understand and study different complexities in your buyer's journey.
REQUEST
A CALL BACK NOW
We have got you covered on all your email and direct marketing needs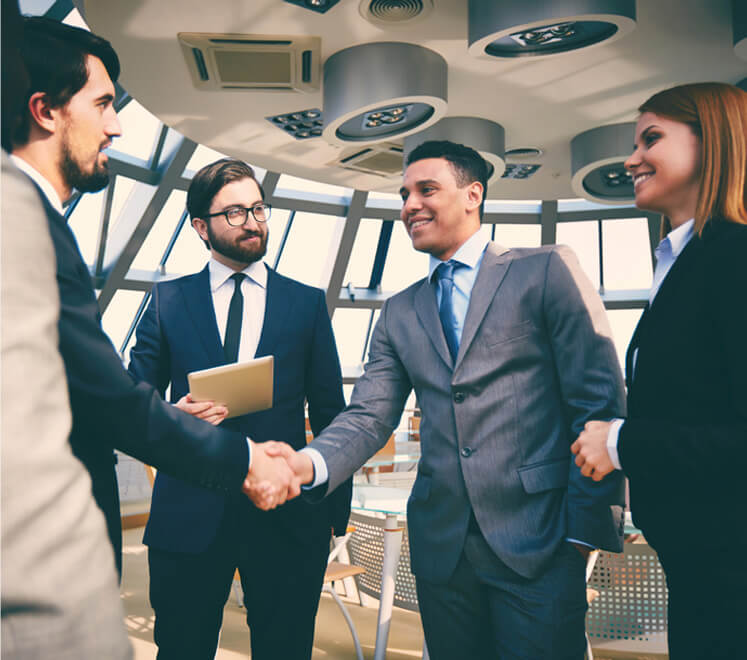 How contact actions are responded?
Contact actions are responded to in real-time, by either department. In your organization if there is an access to shared metrics and improved accountability for actions, the ongoing analysis of sales and marketing performance becomes simpler and clearer.
There's no guarantee that the integration of sales and marketing automation will translate into meaningful sales and marketing alignment. For automation to work, it needs to be supported by a primary data strategy; one that strives to turn customer data into customer insight.
What is your buyer's sphere of influence?
In B2B market, your buyers have researched thoroughly about your organization. They have narrowed their options even before they have the approached you for the initial discussion. That means they have a basic understanding about your products and services. You are doing the research one of the investors in the purchase.
A prospective customer must convince the rest of their team that your products or services fill company's needs, as well as convince the rest of the company, or at least the purchasing manager, to complete the transaction. If she is key decision maker of her organization it is easy for her to influence her people. Find out who these people are so sales can reach the decision makers earlier.
What lead mapping techniques you are following?
You need to help your sales teams to predict lead behavior and better anticipate tough questions. You need to track all digital interactions that your buyer made. The number of opens, clicks, links, page visits, time spent on site, and downloads.
Do you encourage your sales team to adopt an insight-first attitude?
The use of integrated sales and marketing platforms is normal within the B2B sector. Automation is being used to generate customer data, but sales teams aren't incorporating its insights into their sales strategies. Use data insight to interconnect between departments. Develop a universal approach to data, and unlock the full potential of sales and marketing automation. Your organization can collect the right type of data, unlock valuable customer insights, and use automation to transform data insight into effective lead nurturing and improved sales performance.
Do old models work anymore?
Some years back people did not have access to countless information-packed websites, selling was different. Salespeople could go door to door, make unrealistic promises about their products, and record another commission and move on to the next target. Telemarketing, in its day, operated in the same way. There was little motivation to forge lasting relationships with customers because there was so little accountability.
Now prospects are doing thorough research, reading other user reviews, and diving into the data before a company's sales team knows these names. Therefore today's smartest business leaders are taking the long view. Undoubtedly this does not help you in optimizing sales efforts that reduces the distance between awareness and closing.
The role of contemporary marketers is to drive relevant traffic to content pages. They build an audience and capture leads through special offers. They nurture these leads until they hand them over to sales. This means that you must explain why your product is the best one available, address concerns and assist in the decision-making process. In the old days, salespeople would nurture leads and close deals in one call. Today, it's done by marketing via social media, webinars, e-books, podcasts, blog posts, and emails. Therefore these are traceable with digital metrics.
A sales-ready lead has shared a wealth of information over time through information gathered via digital tracking and opt-in forms on landing pages. Again, it's in the data and this familiarity is mutual, too. By the time a lead is handed over to sales, the prospect already knows your product, knows what makes your solution a better match than anyone else's and trusts your company's expertise. Sure, a highly persuasive salesperson can probably convince a few people who won't benefit from your product to buy it anyway. Ultimately, though, this will often do more harm than good, as your customers will be displeased and may share their negative sentiments publicly. But problems along these lines should only arise when the leads coming down the pipeline are irrelevant or sparse.
How you organize the cycles of feedback?
It is the data that gets the sales and marketing departments working together smoothly. This means the systems are in place to track and analyze the right information. To continuously perfect these processes, and to react with agility to unforeseen anomalies, the data must flow from marketing to sales and from sales to marketing, too. When sales team receives a lead, it's up to marketing to provide a record of relevant information on it - information that salespeople can use to gain insight into what this prospect knows.
Likewise, marketing team needs to know how effective their nurturing process has been at preparing prospects for speaking with sales. For every lead that doesn't close, marketing needs to know why. If deal volume or conversion rates start to dip, then marketing needs to know that too in order to attract more of the right people and direct them to the information that can make the biggest difference. It's marketing's job to gather the details that truly matter. They can be rectified and standardized.
GET A FREE QUOTE
Finding the right data can be
complicated, so we are here to help