Improve the Decision-Making Process of Your Organization with Our Premium Accountant Mailing List
As the whole world has shifted from in-person meetings to digital platforms, business operations have evolved as well. Marketers now work tirelessly to strategize on capitalizing the power of digital channels, to not just sell more, but establish a target audience in any part of the world.
Span Global Services strives to provide the best solutions in this, with our massive database of accurate, verified, and fresh customer data, for successful multi-channel marketing. If you're a marketer and are looking to target public accountants to grow your business, our CPA Email Lists will provide you with the one-stop solution. From a versatile, credible databank to regularly-updated in-depth customer data, our CPA email lists will ensure that your marketing efforts instantly convert into success.
GET A FREE QUOTE
We have got you covered on all your email and direct marketing needs
Accountants Mailing Lists by Speciality, Data Fields & Other Details
| Category | Counts | Category | Counts |
| --- | --- | --- | --- |
| Certified Public Accountants Leads | 8,919 | List of Auditor Emails | 14,367 |
| Construction Accountants Database | 4,976 | List of Financial Accountants | 7,072 |
| Consultants Email List | 10,225 | List of Manufacturing CPA | 2,518 |
| Fiduciary Accountants Email List | 7,655 | Mailing List of Cost Accountant | 8,735 |
| Forensic Accountants Mailing List | 3,458 | Management Accountant Email Database | 5,187 |
| Government Accountants Email List | 6,398 | Project Accountants List | 7,836 |
| Industrial CPA Email Addresses | 2,316 | Staff Accountants Email List | 14,216 |
| Investment Accountants List | 5,016 | Tax Accountants Mailing List | 9,175 |
Data Fields We Provide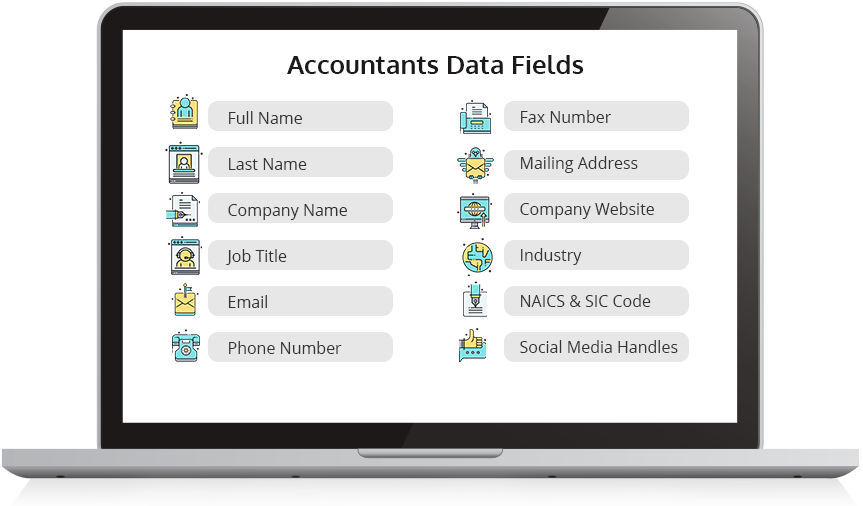 | | |
| --- | --- |
| List Utility | Email Campaigns, Demand Generation, Social Outreach, Tele Marketing, Direct Mail |
| List Delivery Guarantee | 90%+ for Direct mails, 85%+ for Tele-contacts and 65% to 75%+ for emails |
| Available Formats | XLS, Text, CSV, TSV |
| Turn Around Time (TAT) | 7-8 Business Days |
| Data Sources | Trade Fairs & Trade Show Organizers, Opt-in Email Addresses, Leading Journals, Business Directories, Content Creators, Yellow Pages and more |
Secure the Most Qualified Leads with Our Accountants Email Address List
Growing your own list of professionals data can be a tedious job, which is why we do all the heavy lifting for you. Our experts collate highly-accurate data from globally-legitimate sources, to take your marketing campaigns to the next level. Our CPA Email Marketing Lists will give you the right head-start, as you generate leads quicker by targeting the right individuals.
Catering to an uninterested audience can lead to marketing failure. Our Accountant Email List consist of deep insights about the key decision-makers of your target industries. With this data in hand, you can identify the right audience and strategize accordingly to make sure that your business grows rapidly. Our CPA Email Marketing Lists are result-driven and have been crafted to provide the most holistic customer data so that you can experience benefits like low bounce-backs, high CTRs, high ROIs, better brand engagement, etc.
List of CPA's Coverd by Geography & Industry
| | |
| --- | --- |
| Geo-Targeted CPA Contact List | Industry-Wise CPA Contact List |
| USA CPA Mailing List | List of Banking Industry CPA's |
| Hong Kong CPA Sales Leads | Oil and Gas Industry CPA Leads |
| Canadian CPA Mailing Database | Aerospace Industry CPA Email Counts |
| Australian CPA Marketing Database | Manufacturing Industry CPA Contact Database |
| Malaysian CPA Email Leads | Medical Industry CPA Marketing Database |
| Switzerland CPA Email Addresses | Insurance Industry CPA Database |
| France CPA Mailing Lists | Media & Marketing Industry CPA Database |
| List of Singapore CPA's | Automotive Industry CPA Contacts |
| Spain CPA Marketing Database | Telecom Industry CPA Contacts |
| China CPA Mailing Database | Food and Beverage Industry CPA Leads |
| Germany CPA Marketing Database | Education Services Industry CPA Database |
| Email List of Italy CPA's | Call Center Industry CPA Contacts |
| South American CPA Contact Lists | Telecom Industry CPA Marketing List |
| North American CPA Sales Leads | List of Biotechnology Industry CPA's |
Establish Global Connections with Our CPA Email Lists
To create a strong brand image, you must reach out to the right contacts. Span Global Services promises to do just that with our CPA Email List which will equip you with customer data about key professionals from all across the globe.
Our Accountants Email Addresses promise to deliver 100% positive results, as your company acquires a global client-base.
However, in case your needs are such that you need to give your brand local relevance, we can do even that via precision targeting!
Create Effective Personalized Marketing Campaigns with Our CPA Email Lists!
At Span Global Services, we understand the importance of having the best data. Thus, we offer the following benefits for enhanced campaign results: -
Our CPA email marketing lists guarantee you a 95% deliverability rate for higher inbox visibility, CTRs, and open rates
We offer segmented customer data, as per demographic, geographic, technographic, and firmographic, to suit your niche targeting needs
Get 100% secure data from our CPA Email Lists as we implement data appending and data enrichment to avoid any data duplicity, decay, or silos
Our data repository is updated every 45 days to ensure fresher prospects every time
So, what are you waiting for? Contact us today for your free sample of Certified Accountants Mailing List today!
FAQs
Span Global Services is the industry-leading provider of top-notch CPA Mailing Lists. Our dedicated team of data experts and researchers work round the clock to deliver high-quality data to power your marketing campaigns.
Yes, we ensure that the data we offer is compliant with anti-spam laws. That's why we collate data from legal, trusted, and verified sources only. These include press conferences, government & public records, publications, yellow pages, and many more.
Not at all. At Span Global Services, we believe in versatility. Thus, our CPA Marketing Email Lists will help you run bespoke marketing campaigns across multiple channels including direct, social media, email, content, and telemarketing.
Our CPA Email Lists will guarantee you a 95% deliverability rate for higher CTRs, open rates, and better inbox visibility. This will enhance your marketing campaign's performance and lead to greater ROIs and overall profits.
Top Segmented Professional Lists
GET A FREE QUOTE
Finding the right data can be
complicated, so we are here to help