Obtain our Magento Users List to Get Guaranteed Data Accuracy to Maximize Campaign Deliverability
Get Magento Users Email List for B2B technology marketing campaigns. Email marketing is one of the most effective ways of doing personalized campaigns. But one requires the right data to take their marketing emails to the right inboxes. While targeting the Magento clientele, Span Global Services suggests you to use the highly-targeted Magento users list as marketing tool. By using our Magento customers mailing database, it becomes easier for marketers to acquire prospects, retain customers, and discover untapped revenue sources through not only email but also multichannel marketing solutions and strategies.
Span Global Services Highly-responsive List of Magento Customer Contacts Helps You To-
Target new and untapped market worldwide
Find new prospective customers who are ready to make investments
Get a better return on investment (ROI)
Customize marketing messages to the right audience
Improve your campaign's sales
We understand allegations that marketers have faced for having a one-dimensional approach to their campaigning efforts. Time has however changed. Today you can do a lot more, simply by leveraging from a data-driven multi-channel campaigning approach. With our Magento Users Mailing List we help marketers in planning campaign strategies based on online and offline channels, to support campaigns for regional, national and global markets.
GET A FREE QUOTE
We have got you covered on all your email and direct marketing needs
Companies using Magento, Segregated by Top Countries, Top Industries, Data Fields & Other Details
We have data about 26,035 companies that use Magento
| Company Name | Website | Headquarters | Industry | Revenue | Employees |
| --- | --- | --- | --- | --- | --- |
| Festo | festo.com | New York, US | Industrial Automation | $3 Billion | 21,000 |
| H&M | hmgroup.com | Stockholm, Sweden | Retail | $187 Billion | 60,132 |
| Kennards Hire | kennards.com.au | Australia | Construction | $307 Million | 1,500 |
| Scholastic | scholastic.com | New York, US | Publishing | $1 Billion | 6,800 |
| Wasserman | teamwass.com | Los Angeles, US | Entertainment | $115 Million | 658 |
| Zendesk Inc | zendesk.com | San Francisco, US | Computer Software | $816.4 million | 5,672 |
Top Countries that use Magento
Top Industries that use Magento
Data Fields We Provide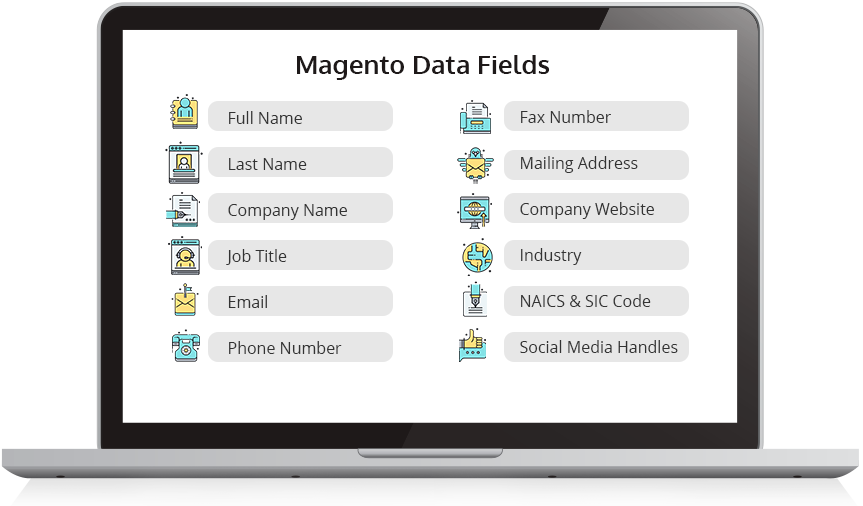 | | |
| --- | --- |
| List Utility | Email Campaigns, Demand Generation, Social Outreach, Tele Marketing, Direct Mail |
| List Delivery Guarantee | 90%+ for Direct mails, 85%+ for Tele-contacts and 65% to 75%+ for emails |
| Available Formats | XLS, Text, CSV, TSV |
| Turn Around Time (TAT) | 7-8 Business Days |
| Data Sources | Trade Fairs & Trade Show Organizers, Opt-in Email Addresses, Leading Journals, Business Directories, Content Creators, Yellow Pages and more |
Close More Sales with Complete Magento Users List and Contact Datasets
Span Global Services compact global e-list of Magento users is a highly-segmented collection of prospect data that is influential in forging a good relationship with the prospects and increase conversions. Invest in our Technographics Datasets to get maximum return on your campaign investment and maximize sales closure rate. Our team of data scientists and dedicated market researchers track Magento customers that engage with different events and acquired their professionals data from legitimate sources, including-
Newsletter Signups
Trade Shows
Conferences and Seminars
Yellow Pages
Business Directories
Government Lists
Feedback Forms
Leading Journals
Opt-in Entries and Other Legal Sources.
We constantly (in every 3 months) update our Technology Lists with newer and relevant information. So partner with us and get in touch with Reliable Vendors of Magento Software who have exclusive offers in the pipeline for you.
Get All Useful Marketing Data and Allied Technology Adoption Intelligence from Magento Customers Lists
Marketers from different fields target the Magento clientele to increase sales of their similar products/services. You should focus on the right niche when targeting this vast global audience base, rather than rolling out unplanned campaigns. Acquire the full Magento Clients List and Technology datasets from us and promote your brand with planned and systematic B2B multi-channel marketing. We help marketers in rolling out personalized campaigns by providing segmented B2B Email Data like-
Magento offers an open source e-commerce platform to businesses across industries. In order to make your technology solution visible to the Magento users, all you need to do is, search by industry, business sizes and quality, and sales volume. With Span Global Services well-segmented and delivery driven Magento users list you will acquire all necessary data for your campaigns and grow your business.
Magento Users E-mail List and Mailing Database Breakdown and Count by Region
Region
USA
UK
EMEA
(Including UK)
APAC
No of Companies
2,111
325
523
176
No. of Contacts (CVD Titles)
12,848
539
974
448
No. of Contacts (All Titles)
49,929
2,123
3,724
1,402
No. of IT Contacts)
5,463
431
683
120
Acquire Magento Users List and Verified Addresses Database to Access the Latest Marketing Insights
Business data is dynamic. Almost 25% business email addresses become non-responsive every year. So even if your customer list is a year old, you can still face issues with deliverability by using that database. Why risk the success of your campaigns. Switch to Span Global Services full Mailing List of Companies that use Magento to accelerate your marketing efforts and generate revenue even faster. We have the right resources and tools for compiling and validating B2B lists on a quarterly basis.
With the geo-targeted mailing list of Magento Users, we encourage marketers to make better use of a data-driven approach and connect with key decision makers who have the intent and authority to purchase. The highly-targetable Magento users mailing database from Span Global Services will give your multi-channel marketing initiatives a great boost. So opt for our data intelligence solutions and obtain databases that are permission-based and include the freshest, most up-to-date information available anywhere. Connect and convert your prospective customers through:
Email Marketing Campaigns
Tele-marketing Campaigns
Direct Mail Marketing Campaigns
Fax Marketing Campaigns
Event Marketing Campaigns
Social Media Marketing Campaigns etc.
We at Span Global Services offer integrated list of Magento partners that is well-segmented with industry leading technology-driven information with an easy to use format. Trust our marketing intelligence solutions to save time and resources while reaching out to your global prospective customers.
Get All Customer Details and Data Intelligence of Magento Users in One Single File!
If you think that you can target global businesses with similar technology offerings (like Magento) then start closing businesses with the right decision makers using niche Magento users email list and increase your revenue. Span Global Services will help you generate more leads that are interested in your offerings and most likely to buy from you. We maintain geographic, technographic, demographic, firmographic information to make our Technology Databases easy for business campaign use.
Span Global Services Offers Country-wise Segmented Magento Customers Email List including-
| | |
| --- | --- |
| USA Business Executives List | France Business Executives List |
| UK Business Executives List | Singapore Business Executives List |
| Canada Business Executives List | Malaysia Business Executives List |
| Germany Business Executives List | Spain Business Executives List |
| Japan Business Executives List | Australia Business Executives List |
So what are you waiting for? Consider buying one from the bulk of Span Global Services datasets to increase your customer business sales and achieve greater success in email marketing. Over the years we have managed and delivered niche business, consumers and technology information with high performance database marketing. Our Magento users mailing list and contacts database will put a rocket under your business growth plan and help you achieve significant customer growth. So are you ready for it? Because we certainly are!
Some of Our Top Selling Databases and Technology Contact Lists:
GET A FREE QUOTE
Finding the right data can be
complicated, so we are here to help